Planning for the second sprint of the Pentagon's new rapid experimentation campaign, where the department will open up the effort to industry's technology concepts, is likely set to begin within the next few weeks, the effort's lead official said Monday.
Heidi Shyu, the under secretary of defense for research and engineering, said she is continuing to engage with industry ahead of soliciting white papers for the second iteration of the prototyping campaign, which is part of the Pentagon's new Rapid Defense Experimentation Reserve (RDER) effort to test emerging technologies that can address joint warfighting capability gaps.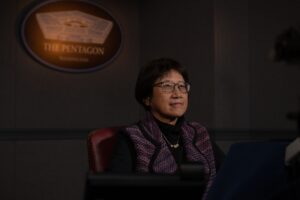 "What we plan to do with the second sprint is open it up to industry and across the entire DoD research and engineering enterprise," Shyu said during a keynote address at NDIA's Pacific Operational Science & Technology (POST) Conference in Honolulu, Hawaii ."So if you're a small company and have a great idea, we're interested in hearing your ideas. If you have prototypes, please submit a white paper. We are initiating that process pretty quickly, probably in the next few weeks we're starting [the process] for our second sprint."
The first iteration of the joint experimentation campaign, which will help identify promising prototyping initiatives and aim to bridge the "technology valley of death," is set to start in FY '23 with 32 projects sourced from the military services (Defense Daily, Nov. 8).
Shyu has previously said the Pentagon is likely to request a figure below a billion dollars in its fiscal year 2023 budget for its new rapid experimentation campaign, while noting the eventual FY '22 spending bill is also set to include some funds to get the program started (Defense Daily, Jan. 19).
After starting with the initial effort in FY '23, Shyu said the Pentagon plans to hold two experimentation sprints per year starting with FY '24 with that planning to begin "relatively shortly."
"In order to plan for the FY '24 [sprints] you really have to start now because it takes time to go through the entire process in terms of informing industry, soliciting ideas and for them to write white papers and for us to evaluate it," Shyu told reporters following her discussion. "There's going to be more news coming out. But I'm definitely interested in engaging industry and not just the traditional primes but also commercial folks as well."
Shyu said she is also aiming to set up a "transition pot of money" for the RDER experimentation, to ensure smaller companies are able to take promising prototypes into production.
"Let's say a small company demonstrates a capability and we love it and we want 5,000 of them. Well guess what, you just built the first two or three prototypes and it's not like a light switch where you can ramp up to 5,000 tomorrow. So you need some help in ramping up to get it into production. I want to be able to have a pot of money to help you establish your transition path," Shyu said.