The Pentagon is planning to launch its virtual "Trusted Capital Marketplace" this month, a department official said Thursday, as it aims to bolster opportunities for U.S. venture capital (VC) firms to invest in emerging defense technologies.
Ellen Lord, the department's top acquisition official, said the electronic marketplace will serve as a means to provide smaller businesses working on innovative technologies more interaction with potential VC partners and help deter potential adversarial investment in those same companies.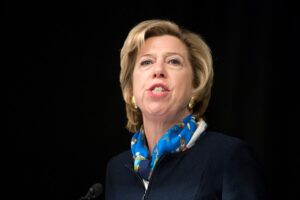 "It's where we're bringing capital providers with capability providers to provide a clearing house to bring that trusted capital to innovative companies that need capital infusion," Lord said during a virtual Hudson Institute discussion.
Lord said the marketplace will build on a year of beta testing the new effort, and looks to offer a platform to highlight innovative, smaller companies that may otherwise not have the means to work through DoD's longer contracting cycle without the investment boost.
"What we'll do is we'll say here are companies DoD is interested in. [We're] not always promising a contract, some of them do and some of them don't. [We'll say] here are capital providers that have some money, why don't you guys get together. And there's a huge demand on either side, so I'm really excited about this coming [online]," Lord said.
The marketplace is the latest piece to the "Trusted Capital" program, which has also included several industry events focused around specific technology areas of interest for the Pentagon.
Last August, the department held its first Trusted Capital event focused on small UAS and highlighting opportunities to bolster American investment in the market, with Lord citing China's push to lead in the technology space (Defense Daily, Aug. 26 2019).
"We will get more interaction, more quick development and more quick fielding," Lord said.