The outgoing top acquisition official at the Pentagon discussed the department's new industrial capabilities report Wednesday, highlighting the need to continue addressing supply chain vulnerabilities and reducing dependency on offshore suppliers.
Ellen Lord, the under secretary of defense for acquisition and sustainment, said the new report
outlines key actions DoD must take to help eliminate vulnerabilities, for areas such as microelectronics, rare Earth minerals and shipbuilding.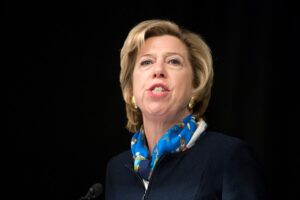 During a Hudson Institute discussion on Thursday, Lord said the department has started the process of reshoring suppliers for critical capabilities but now needs to "just amp it up," to include reducing reliance on manufacturing components or processing minerals in China and look for greater opportunities with allied partners.
"We look at the fragilities we have, the offshore dependencies. We work closely with our partners and allies, especially Canada, the U.K., Australia…and we find common pain points and we leverage our collective abilities to address those," Lord said.  
The report also calls for connecting the defense industrial base with the larger U.S. national innovation base by looking to integrate new manufacturing technologies and processes and expanding "funding for capital investment in facilities."
"Without that serious and targeted investment – billions instead of millions – America's defense industrial base is simply unsustainable, let alone capable of supporting our deployed forces and legacy equipment while solving the complex warfighting challenges posed by advanced technologies in the 21st century, from AI and cyber to hypersonics and autonomous air and sea systems," officials wrote in the report. 
Lord has previously said her office has been assessing the microelectronics industrial base "to understand [challenges] from foundries to packaging, logic to memory" that could inform the need for a potential national policy to address lingering supply chain vulnerabilities (Defense Daily, July 16). 
The report also details additional actions for bolstering public-private partnerships and furthering defense reforms to ease the barrier of entry for smaller, innovative companies to work with the department.
"We started with a number of [initiatives], but there's much further to go. We want to make sure that our traditional defense industrial base is widened to get all of those creative, innovative companies [involved]. We know those small companies are where most of our innovation comes from. And the barriers to entry sometimes to getting into the Department of Defense are rather onerous," Lord said. "Our team has spent quite a bit of time looking at certain models, and there is a question of how do we as a nation and as a government implement some of these strategies and how do we support our industrial base to make sure they can deliver what we need."
On Wednesday, Lord detailed the Pentagon's new virtual "Trusted Capital Marketplace," which looks to connect U.S. venture capital (VC) firms with emerging defense technologies for potential investment opportunities and root out foreign investors from adversarial nations (Defense Daily, Jan. 13). 
"We've seen that our adversaries are channeling funds toward these small companies when they reach that precarious place where they might not actually have the cash to move on," Lord said. "We want to get on the offensive side and that's why we're doing things like our Trusted Capital Marketplace that we just rolled out formally yesterday."