Army Secretary Christine Wormuth told lawmakers Tuesday that Futures Command will remain a four-star command and there are no plans to downgrade the modernization-focused organization in the wake of a recent memo that more narrowly defined its role.
During a House Appropriations Defense Subcommittee hearing, Wormuth acknowledged there "have been some ambiguities" in previous directives related to the relationships between Army Futures Command (AFC) and the service's acquisition office, reiterating her new memo was aimed at clarifying each entity's responsibilities.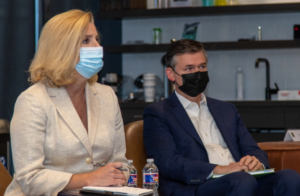 "This directive was just trying to clean up some of that ambiguity," Wormuth told the panel. "The approach the Army takes to modernization is a team approach. We have multiple organizations inside the Army that are playing roles and we just wanted to clarify that. This directive does not change the role of the Cross Functional Teams. It does not downgrade the role of Army Futures Command. It really just tries to clarify some ambiguity to make sure that all parts of the Army enterprise for modernization are clear on what they're doing."
Wormuth signed the new directive on May 3, which included eliminating previous language from earlier guidance that established Futures Command as "leading the modernization enterprise" and reiterates that the assistant secretary of the Army for acquisition, logistics and technology (ASA(ALT)) office owns both acquisition and oversight of research and development (R&D) efforts (Defense Daily, May 5).
Doug Bush, the Army ASA (ALT), told the House Armed Services Tactical Air and Land Forces Subcommittee during a separate hearing Monday afternoon he viewed the memo as reinforcing the working relationship with Army Futures Command that has been in place since he began leading the service's acquisition office.
"I believe it's more of a reflection of the way things are working today and have been working for the past year than it is a fundamental change," Bush told the panel. "The critical issue is that Army Futures Command never had acquisition authority. That has always resided, as required by law, on the civilian secretariat side in my office. I think the system is working very well actually. [The acting AFC commander] has his job. I've got mine. No one person is in charge of everything. We have to coordinate and cooperate. And I think the memo simply reinforces that statement from the secretary."
Lt. Gen. James Richardson, the acting head of Futures Command, told the HASC subcommittee he viewed his organization as "the engine of Army modernization."
"Day to day work at AFC is not changing. We develop. We integrate concepts, technology, requirements and force design. And AFC is really the engine behind that modernization. We execute the integration and the synchronization of modernization across the enterprise," Richardson said.