The Pentagon could look to adjustments to overseas basing and exercise decisions to save funds in the face of likely flat or declining budgets in the coming years, the chairman of Joint Chiefs of Staff said Wednesday.
Army Gen. Mark Milley echoed previous comments from senior Pentagon officials that the department is unlikely to meet their call for three to five percent real budget growth, adding "there's a reasonable prospect that they could actually decline significantly."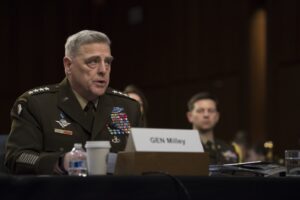 "In an ideal world, I believe that we would need three to five percent sustained level of real growth in order to continue the modernization programs and readiness programs and so on that we have. That's desired. And we would want to have a sustained, predictable, adequate budget in a timely way every year. But that's also not necessarily going to happen and I don't anticipate that it will happen," Milley said during a discussion with the Brookings Institution.
Milley said the tight budget environment will require the Pentagon to assess its overseas disposition as a means of saving funds, while not naming specific areas where adjustments could be made.
"There's a considerable amount of money that the United States spends on overseas deployments or overseas bases and locations, etc. Is everyone of those absolutely positively necessary for the defense of the United States? Is everyone of them tied to a vital national security interest? Is everyone of these exercises that we do really critically important? Real hard looks at everything we do I think is warranted," Milley said.