The Army's new Javelin deal to Lockheed Martin [LMT] and
Raytheon Technologies [RTX] could cover procurement of up to 28,000 missiles under the $7.2 billion contract ceiling.
A spokesperson for the Army's Program Executive Office Missiles and Space confirmed the additional details of the recent Javelin production award, noting the initial $1.02 billion base period covers 6,300 missiles.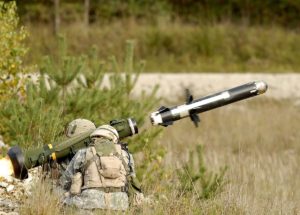 "This contract includes replenishment of U.S. missile stockpiles as well as regular recurring production activities. A portion of the contract utilized Ukraine supplemental funds," the spokesperson said.
Lockheed Martin and Raytheon Technologies' Javelin joint venture received the new production contract last week, which the companies said will support ramping up production to 3,960 anti-tank missiles per year by late 2026 (Defense Daily, May 4).
The U.S. has committed to providing Ukraine with 10,000 Javelin anti-tank missiles to date, according to the Pentagon, in support of Kyiv's fight against Russia's ongoing invasion.
The new Javelin production deal also covers deliveries of the anti-tank missile to international partners.
The full list of countries to receive missiles under the procurement deal includes Albania, Australia, Estonia, Ireland, Lithuania, Macedonia, New Zealand, Norway, Oman, Poland, Thailand, and the United Kingdom, according to the PEO Missiles and Space spokesperson.