A lead official for the Army's Infantry Squad Vehicle program (ISV) called the new platform a "paradigm shift" toward getting after a more agile acquisition process for rapid delivery of new capabilities.
Steve Herrick, product lead for ground mobility vehicles, was present at GM Defense's [GM] opening of a new production facility for the ISV in Concord, N.C., which was built in around 90 days, and attributed the ability to deliver the first vehicles about 120 days after contract award to "layering" critical program tasks.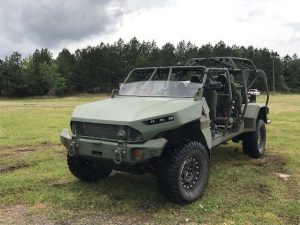 "We normally don't have this type of visibility on this level of a program, but what we're doing is a true paradigm shift in acquisition," Herrick said  last week during prepared remarks at the facility opening. "We're changing the way we do business. It's a transformational thing. It takes time, but we're doing it pretty quickly on this program."
Herrick told Defense Daily following his remarks that the streamlined acquisition approach for ISV involved running a parallel path where testing, logistics support and development were worked at the same time to cut down on the traditional procurement timeline.
"It revolves around speed, but what we did is we layered all the critical program tasks all parallel together which is not normal," Herrick said.
GM Defense secured a $214.3 million production deal last June to build the new lightweight air-droppable ISV, based on the ZR2 variants of the company's Chevrolet Colorado midsize truck and built with 90 percent commercial parts. 
Herrick said the Army is now thinking through how to get more commercial parts into the Army supply system that could allow for more rapid repair efforts if pieces are more readily available. 
"I think it's bringing forward a lot of good questions," Herrick said. "What we're learning is…we're missing a big opportunity here limiting ourselves to some certain militarization that maybe is not the right move for vehicles like [ISV]. It may be right for Abrams and Bradleys but for this platform there are certain things we can do."
GM Defense also showcased an all-electric version of the ISV at the event that functions as a concept demonstrator, which Herrick lauded as showing the potential for near-term advancements in vehicle electrification opportunities.
"What [GM Defense] produced and showed us here this week is definitely a step in the huge Army direction, especially with what we're seeing from the current administration's policy for green [technology] and climate change," Herrick said.
Steve duMont, who was announced as GM Defense's new president on Tuesday, told Defense Daily the company plans to leverage parent company General Motors' planned investment of $27 billion over the next five years in vehicle electrification to explore advanced technologies with military applications (Defense Daily, May 4).