Kongsberg announced last Friday the company recently conducted several successful Javelin missile shots with multiple configurations of its Common Remotely Operated Weapon Station (CROWS) from three different vehicles, including the first time firing from the U.S. Army's Robotic Combat Vehicle-Light prototype.
The demonstrations at the Army's Redstone Test Center in Alabama on May 25 included the Javelin Joint Venture of Raytheon Technologies
[RTN] and Lockheed Martin [LMT], and also showcased firing CROWS-Javelin from a Joint Light Tactical Vehicle and the Protector RS6 remote weapon station from a Ground Mobility Vehicle.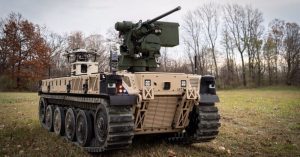 "Kongsberg has solidified its position as the remote weapon station of choice for Javelin deployment across a broad range of platforms. Our remote weapon stations are powerful force multipliers, especially given that we're delivering a Multi-User Multi-Station (MUMS) capability to facilitate advanced target sharing and cooperative engagement," Jason Toepfer, the company's director for Army business development, said in a statement.
The test with the RCV-L prototype, built by QinetiQ North America, utilized the new CROWS-Tech Refresh, which the company said demonstrated "Tech Refresh's backwards compatibility with legacy CROWS systems."
Company officials previously told Defense Daily the new Tech Refresh version of CROWS includes improved optics and sensors, including Leonardo DRS' TS3 thermal sight tool, as well upgraded computing power to enable open architecture for future growth capabilities and new digital fire control tools (Defense Daily, Oct. 9 2020).
Kongsberg, which is based in Norway, noted the Protector RS6 used to fire Javelin from the Ground Mobility Vehicle is the same system selected by the Marine Corps for its Marine Air Defense Integrated System program, which aims to field a a counter-drone system to be integrated on its Joint Light Tactical Vehicles.