Kongsberg is in the process of finalizing a $500 million extension with the Army to take the Common Remotely Operated Weapon Station (CROWS) program out to 2023, with the official deal expected to be awarded in December.
Scott Burk, vice president for business development and government relations for Kongberg's US Land Systems, told Defense Daily
on Friday the deal includes requirements for across the services and arrives as the company gets set to begin production of the upgraded capability, called CROWS Tech Refresh.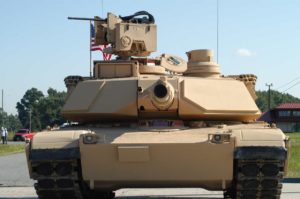 "That period of performance and ceiling extension is 100 percent driven by user interest, user demand, specifically in [CROWS] Tech Refresh," Burk said, noting the first customer for CROWS Tech Refresh will be Army Strykers. "We also have systems that are going to be specifically tailored for Marine Corps requirements, for Navy requirements, for Air Force requirements. Each one of those is a dedicated system. And then the low-profile systems for the Abrams [tank] community are the big numbers [for the extension]"
Tech Refresh is an upgrade to the base M153 CROWS and includes improved optics and sensors, including Leonardo DRS' TS3 thermal sight tool.
The program also includes upgrading the computing power for CROWS with an emphasis on open architecture to enable future growth capabilities and new digital fire control tools.
"Because of that computing horsepower increase, it gives us the ability to adopt different effectors like anti-tank guided missiles, additional sensors, escalation force kits. It gives us provisions for power, data and physical infrastructure that we just did not have in the existing M153s," Burk said.
Kongberg told Defense Daily in March the company was set to begin production to support CROWS Tech Refresh before the end of the year (Defense Daily, March 23).
Burk also noted Kongberg continues to receive interest in a lighter remote weapon station, with the company exploring how a system that could accept SOCOM's new 338 Machine Gun as well as leverage the services' previous investments in CROWS to ensure interoperability.
"The idea would be if there was an adopter who was interested in that light system, we would be able to take advantage of investment they had already made in CROWS and Tech Refresh for LRUs, components and interoperability. We had a lot of interest from users and customers but their biggest concern was that they did not want to lose traction on the investment that they had already made. So that's the way that we had built this light system," Burk said.
Last month, the Marine Corps announced it had selected Kongsberg's XM914 30mm remote weapon station for its Marine Air Defense Integrated System (MADIS) program to find a counter-UAS system to be integrated on its Joint Light Tactical Vehicles (Defense Daily, Sept. 21).
Burk said Kongsberg is in the process of delivering 10 test articles for MADIS, noting that the Marine Corps' production requirement is for over 200 systems.
"A primary driver in that decision process was commonality," Burk said. "We were able to show them and prove exactly what we said, that we had the ability to already adopt through a common missile interface that was configured, at the time, for Javelin and quickly move that to Stinger and then also showcase the computing horsepower ability of the weapon station to be able to take data from other sources and then cue, track and engage. Those were probably the biggest differentiators for the Marine Corps."