House Republicans' picks to sit on the new committee focused on strategic competition with China feature several lawmakers who have focused on national security issues related to emerging technology and seapower-related priorities in recent years.
Speaker Kevin McCarthy (R-Calif.) on Monday evening announced the nine Republicans who will sit on the new panel, to include Reps. Rob Wittman (R-Va.) and Jim Banks (R-Ind.), who have both served on the Armed Services Committee and led key subcommittees.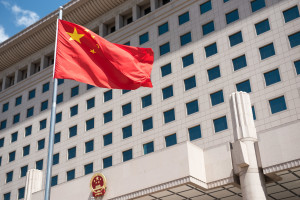 "Under a Republican majority, the work carried out in the Intelligence and China Select Committees will help our nation stay ahead of emerging threats. To carry out this important work, we need legislators with the experience and vision to pursue the innovative policy solutions that will help us to effectively counter our adversaries," McCarthy said in a statement.
The House voted 365 to 65 earlier this month to establish the new select committee, which is intended to focus on China's technological and security priorities and ongoing competition with the United States, with a goal to offer bipartisan policy recommendations (Defense Daily, Jan. 11).
Along with Rep. Mike Gallagher (R-Wis.), who has also served on HASC and will chair the committee, the House GOP's picks include Reps. Rob Wittman (R-Va.), Blaine Luetkemeyer (R-Mo.), Andy Barr (R-Ky.), Dan Newhouse (R-Wash.), John Moolenaar (R-Mich.), Darin LaHood (R-Ill.), Neal Dunn (R-Fla.), Jim Banks (R-Ind.) Dusty Johnson (R-S.D.), Michelle Steel (R-Calif.), Ashley Hinson (R-Iowa), Carlos Gimenez (R-Fla.).
House Democrats, who are likely to have seven members on the committee, have not yet announced their picks.
Wittman, the top Republican on HASC Seapower in the last Congress, is poised to bring a perspective to the panel on Navy requirements and strategic competition in the Indo-Pacific region as it relates to China.
"We live in an era of great power competition, and our greatest competitor remains the Chinese Communist Party (CCP). The House Select Committee on China sends a strong signal that this Congress is committed to facing escalating aggression from Beijing. We are serious about addressing our acute military competition with China, in addition to confronting the CCP's increasing use of diplomatic and economic coercion around the world. We are ready to take all measures necessary to counter Beijing's hostile agenda in the Indo-Pacific and beyond," Wittman said in a statement on Tuesday.
An unclassified version of the new National Defense Strategy released in late October detailed the "pacing challenge" of China as the department's prime focus over the more "acute threat" presented by Russia, citing Beijing as "the most comprehensive and serious challenge to U.S. national security" (Defense Daily, Oct. 27).
Banks, who has served as ranking member on HASC's Subcommittee on Cyber, Innovative Technologies, and Information Systems, also once led a bipartisan task force focused on how the Pentagon is prepared for defense innovation challenges over the next 30 years.
"I've spent much of my time in Congress pushing Washington to acknowledge and combat the existential threat posed by the Chinese Communist Party alongside Members like Chairman Gallagher and Trump administration officials. We still have a lot of work to do but I'd like to thank Speaker McCarthy for establishing this historic Select Committee," Banks said in a statement. "I will do everything I can on the Committee to ensure that our military keeps pace with the People's Liberation Army and to push back on malign Chinese influence. My hope is that over the next two years the Committee will have developed the first ever long-term Congressional strategy to take on the Chinese Communist Party."
Banks and Rep. Seth Moulton (D-Mass.), who co-chaired the previous Future of Defense Task Force, wrote in that effort's final report the U.S. "must recognize that without a new commitment to achieving technological superiority, the successes of the 20th century–the American Century–will no longer be assured" (Defense Daily, Sept. 29 2020).