The House Armed Services Committee on Wednesday marked-up its version of the fiscal year 2021 defense authorization bill, passing a host of amendments and previewing a provision to address last-minute Pentagon spending at the end of the fiscal year.
The hearing was less contentious than last year's mark-up, which resulted in a vote along party lines, while containing significant discussion on addressing the White House's proposed plan to pull troops out of Germany.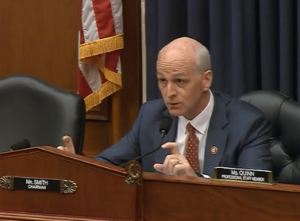 "On the substance of the bill, it seems to me there's been a genuine effort on both sides to work together to get a product that we can support. And I hope that will continue today through the floor and into conference [with the Senate]," Rep. Mac Thornberry (R-Texas), the HASC ranking member, said during his opening remarks.
The hearing arrived as the president threatened on Tuesday evening to veto the NDAA if it included provisions to rename bases named after Confederate leaders.
Rep. Anthony Brown (D-Md.) introduced an amendment Wednesday that would require such installations to be renamed within one year, with a roll call vote to take place at the end of the hearing.
"This is not an issue that requires a great deal of study. A vast majority of Americans support this. A vast majority of members of Congress support this. And a vast majority of senior leadership, both civilian and military at the Department of Defense and service components seek this change," Brown said. "We're grappling with the country's painful past and must acknowledge that the history and cause of the Confederacy is centered on slavery and oppression. Highly visible instances of racial violence and racism have underscored the immediate need for change."
Lawmakers unanimously approved amendment packages from across HASC subcommittees, while the full committee was still considering the final bill before Defense Daily's deadline.
Approved amendments include calling for the Army to assess its tactical wheeled vehicle fleet and acquisition strategy for its Shadow drone replacement program, as well as addressing restriction of funds for retiring KC-135 aircraft and requiring the Navy to report on the interoperability of Aegis combatants and 5th-generation aircraft. 
HASC also voted for a package of amendments that will add in recommendations from the National Security Commission on Artificial Intelligence, including standing up an executive steering committee on emerging technology and national security threats and establishing a National AI Initiative. 
An amendment from Thornberry to repeal the Pentagon's Chief Management Officer position was approved as part of an amendment package, with the committee' top Republican  previously telling reporters it's an "impossible job and we need to figure out something different."
Thornberry also discussed a proposed amendment to address the Pentagons 'use or it lose it' spending, which would allow the department to hold over 50 percent of unspent funds for the following fiscal year.
"I'll bet every single member of this committee has fussed at one time or another about DoD spending tons of money before the end of the fiscal year, before they lost it. That 'use it or lose it' problem," Thornberry said, referring to Operations & Maintenance funding which expires at the end of the fiscal year. "If you look at the percentage of O&M money that is spent in September it's an enormous share."
The ranking member noted several agencies, including DHS, DoJ and the Department of Transportation, have a similar authority, and he plans to introduce the amendment when the NDAA goes to vote on the House floor.
"Unfortunately, this amendment has been referred to the Appropriations Committee that will not wave. So I'm not going to be able to pursue it in the [HASC]. I may well try to pursue it on the floor."
Significant debate at the hearing was focused on an amendment that would restrict the potential movement from troops out of Germany until the White House consulted with both Congress and allied partners on the decision.
"At this time, we can't afford to reduce our presence in Europe. Russia is a major threat to our country and to the free world. Our deterrence posture in Germany is a key reason why Russia no longer controls most of Eastern Europe," said Rep Ruben Gallego (D-Ariz.), the amendment's sponsor.
Reps. Matt Gaetz (R-Fla.) and Mo Brooks (Ala.), as well progressive democrat Rep. Ro Khanna (D-Calif.), spoke in opposition to the amendment.
"The way to stop Russian aggression is not going to be determined by whether we have 5,000 or 9,000 more troops sitting there in Germany," Khanna said. "What we need is a strengthening of our alliances and a clear sense to Russia, through effective diplomacy, that we are not going to stand for further aggression."
A vote on Gallego's amendment is scheduled for a roll call vote at the end of the hearing.