The chairman of the House Armed Services Committee (HASC) said Tuesday he predicts Democrats will have to settle significant intra-party differences on reducing the defense budget if former Vice President Joe Biden wins the election, while noting he believes the Pentagon should still be able to operate well if spending were to remain flat.
"The defense budget is going to be flat for awhile. There's no reason on Earth, in my view, that we cannot defend the United States of America for $740 billion. So I think the better question, the question to focus on, is how do we spend that money? How do we get more out of it?" Rep. Adam Smith (D-Wash.) said during a virtual Defense Acquisition University/George Mason University event.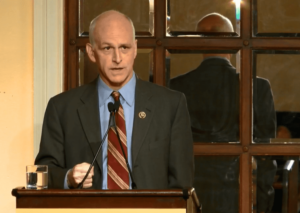 Over the summer, progressive Democrats in both the House and Senate proposed provisions for their respective versions of the next defense policy bill that called for cutting DoD's budget by 10 percent (Defense Daily, July 23).
"I don't think that's the right approach. I don't think that's a solid national security strategy," Smith said.
While those measures were not adopted, Smith said the party will have to address those concerns to come to a pragmatic consensus, especially if Democrats are able to win back both the White House and Senate.
In a recent interview with Stars and Stripes, Biden said he does not think major defense cuts are inevitable if he is elected and that his administration could be open to increasing the Pentagon's budget (Defense Daily, Sept. 11).
Senior Pentagon officials have called for a three to five percent annual budget growth to meet modernization initiatives, with Smith noting that HASC must continue to push for the department to more efficiently used funds in the face of likely flat or declining budgets.
"We have not had a terribly productive last 20 years. Anyone passingly familiar with the defense budget…can go through the cost of the F-35, the cost of the Ford-class carrier, and that's not even counting programs like the Expeditionary Fighting Vehicle, the Comanche helicopter and a whole bunch of others that just went poof. We spent a lot of money and didn't get anything," Smith said. "We have got to work with the contractor community to get better about how we spend our money and the results we get for that money."
Smith also said he doesn't see a final version for a new pandemic relief package containing significant funds for defense.
"At this point, it's increasingly unlikely that we will get a COVID relief package before the election. If we get one, I think the idea that there's going to be a lot more money in there for defense is unlikely," Smith said.
Later on Tuesday, the president announced in a social media post he is shutting down talks on a stimulus bill until after the election.
House Democrats last week passed their $2.2 trillion pandemic relief package, which included appropriated funds to cover the defense industry's COVID-related claims (Defense Daily, Oct. 2).
Pentagon officials have previously called on lawmakers to appropriate reimbursement funds for industry in the next relief bill, estimating the costs to be between $10 billion to $20 billion.
Smith also estimated defense spending will likely remain flat in the coming years, while senior Pentagon officials have called for a three to five percent annual budget growth to meet modernization initiatives.