The Pentagon's commercial satellite communications (COMSATCOM) office will release a final proposal request next April for a potential 10-year, $1 billion contract to provide the Navy's broadband enterprise satellite services, with plans to award a contract in October 2020.
Melissa Copeland, senior program analyst with the Air Force Commercial Satellite Communications Office, told attendees on Monday at a Defense Information Systems Agency (DISA) conference her office is also readying several additional COMSATCOM opportunities in 2020, including CENTCOM support services and an Enhanced Mobile Satellite Services (EMSS) contract.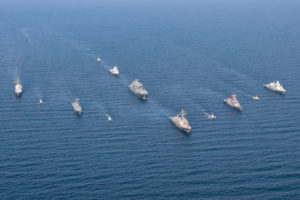 "As we move forward to the SATCOM enterprise, we will see more emphasis on situation awareness tools and cyber security in addition to the basic requirements that you're all familiar with. Please pay attention to all those factors. They are very important to us, and they will have an impact on who gets the award," Copeland said.
Copeland noted that the COMSATCOM work is currently continuing its transition from DISA to the Air Force, with her office looking to move forward with the major Commercial Broadband Satellite Program (CBSP) Satellite Services Contract (CSSC) II next year.
A draft RFP for CSSC II will be released in February and this is recompete contract with Inmarsat serving as the current vendor.
"That will be the recompete of the Navy's enterprise SATCOM solution. It will involve bandwidth and teleport services as well as cyber security and situational awareness tools," Copeland said. "That will be a very large effort. We are going to be working that very hard."
CSSC II will be a three-year base base contract and include seven option years and is set to be awarded through the Defense Information Technology Contracting Organization (DITCO).
Two CENTCOM SATCOM recompete contracts will also be awarded in February 2020, including a $93 million deal to provide 288 MHz Ku-band capacity and $104 million for 324 MHz Ku-band capacity services.
A final RFP will be released in January for a $150 million deal to provide EMSS support with a contract award planned for next April.