The Pentagon's fiscal year 2021 budget request includes a total of $9.8 billion for cyber activities, a nearly flat funding level from what it received in FY '20.
Overall, the request is up $200 million, about 2 percent.
U.S. Cyber Command's 133 Cyber Mission Forces (CMF) would receive $2.2 billion, which is also the same level of funding as the previous year.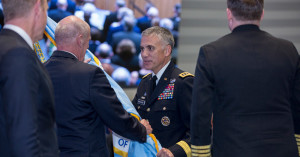 "The department also continues to make significant investments in dual-use cyber ranges with the flexibility to support both CMF training and the evaluation of information technology, control systems and weapon systems," officials wrote in budget documents.
Officials requested $5.4 billion for various cyber security activities in the request released Monday, adding the funding builds on initiatives started in FY '20 and "provides for increased capabilities in cross-domain solutions."
The $5.4 billion allocation includes $296 million to shore up information sharing capabilities, $198.5 million to operationalize Identity and Credential Access Management modernization efforts and $69.8 million to bolster critical infrastructure shared between the department and the industrial base.
An additional $679 million is included to "drive cryptology modernization and deployment of the next generation of missions systems and platforms."
The Pentagon's cyber operations budget in its FY '21 request comes out to $3.8 billion to cover both offensive and defensive operations, and includes $238.6 million for capability development.
Cyber Command's new "hunt forward" focus to provide persistent engagement aimed at countering malicious cyber actors would receive $431.6 million.