The U.S. Air Force has awarded Concord, Calif.-based Volansi a contract to participate in the service's prototype effort for the Skyborg low-cost attritable demonstrator–a project worth up to $400 million.
The company was founded "in 2015 as a direct response to inventory and supply chain problems at Tesla," according to the company's website. "Founders Hannan Parvizian and Wesley Zheng saw that emerging drone technologies could be used to drastically improve the way Tesla was serving its customers. Now, Volansi's technologies are at the forefront of autonomous flight. Every day, our drones take parts, medical supplies, aid and critical equipment exactly where it needs to be, no matter the terrain."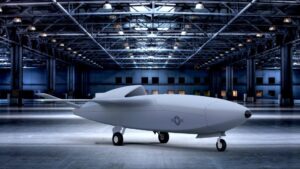 Earlier this month, the Air Force awarded more than $76 million to Kratos [KTOS], Boeing [BA], and General Atomics to build Skyborg prototypes and fly them in teaming with manned aircraft (Defense Daily, Dec. 7).
The Air Force said that it expects to receive the first prototypes by next May for initial flight tests and to begin experimentation in July.
The Air Force launched Skyborg in May in an effort to field an AI-driven system to be a "quarterback in the sky" for manned aircraft. Skyborg is one of the service's three "Vanguard" programs, which are the service's top science and technology priorities and are meant to demonstrate the rapid viability of emerging technology (Defense Daily, Nov. 21, 2019).
Included in the Volansi portfolio are unmanned aerial vehicles (UAV), such as the Voly C20 and Voly M20 class 3 UAVs. The Voly C20 is able to port 20 pounds of cargo or conduct intelligence, surveillance, and reconnaissance missions, while the Voly M20 is able to carry 20 pounds of payload and 10 pounds of sensors, the company said.