In a new trilateral partnership announced Wednesday aimed at bolstering Indo-Pacific strategic security efforts, the U.S. and U.K. will help Australia pursue procurement of the country's first nuclear-powered submarines.
President Biden detailed the new partnership, called AUKUS, alongside Australian Prime Minister Scott Morrison and British Prime Minister Boris Johnson, which will begin with an 18-month initiative to inform how Australia will go after the capability.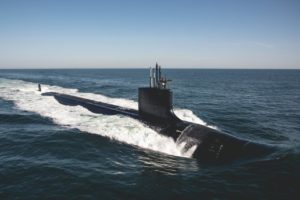 "We want to underscore that this will give Australia the capability for their submarines, basically, to deploy for longer periods. [Nuclear-powered submarines] are quieter. They're much more capable. They will allow [Australia] to sustain and improve deterrence across the Indo-Pacific," a senior Biden administration official told reporters before the announcement. "This is a fundamental decision that binds, decisively, Australia, the United States and Great Britain for generations. This is the biggest strategic step that Australia has taken in generations."
Australia currently operates a fleet of six Collins-class conventionally-powered diesel-electric attack submarines, but has been pursuing a potential $90 billion program to replace that fleet with 12 new conventionally-powered submarines designed by French firm Naval Group.
The newly announced pursuit of nuclear-powered submarines is likely to signal the cancellation of that replacement program.
"It's very hard to overestimate how important and how challenging this endeavor will be. Australia does not have a nuclear domestic infrastructure. They have made a major commitment to go in this direction. This will be a sustained effort over years. Everything that we've seen from Australia indicates they're determined to proceed on this course and we have complete confidence they will be effective in this pursuit. But it will be lengthy and it will be detailed and it will be substantial," a senior Biden administration official said.
Senior administration officials pointed to the rarity of such a partnership, noting the only other instance of the U.S. working with another country on nuclear-powered propulsion is with the U.K., beginning back in 1958.
"This technology is extremely sensitive. This is, frankly, an exception to our policy in many respects. I do not anticipate that this will be undertaken in other circumstances going forward. We view this as a one-off [opportunity]," a senior administration official told reporters.
With AUKUS focused on bolstering future deterrence efforts in the Indo-Pacific region, administration officials cited nuclear-powered submarines' ability to provide improved stealth, speed maneuverability, survivability and "really substantial endurance" over conventionally-powered platforms.
"The challenge with conventionally-powered submarines is that you have to surface regularly and the range is limited. And I think what we're seeing in the Indo-Pacific region is a set of circumstances where capabilities are more advanced. This allows Australia to play at a much higher level and to augment American capabilities that will be similar," a senior administration official said.
The senior administration officials reiterated several times that Australia remains committed to non-proliferation initiatives, noting this partnership focuses on a nuclear-powered capability rather than pursuit of nuclear weapons.
"This partnership is, in many ways, possible because of Australia's long-standing and demonstrated commitment to non-proliferation," a senior administration official said.