President Biden said Tuesday he will nominate Doug Bush to serve as the Army's top acquisition official, a role he currently holds in an acting capacity.
Bush, who has served as the Army's Acting Assistant Secretary of the Army for Acquisition, Logistics and Technology since early March, would oversee procurement efforts, to include the service's ongoing modernization overhaul.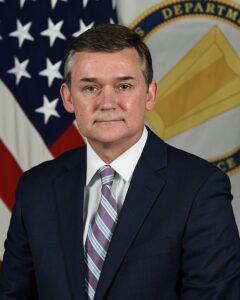 In a June hearing, Bush told the Senate Armed Services Committee that the Army's planned program reductions to fully fund modernization means the service must accept some level of risk as it develops new systems (Defense Daily, June 15). 
"We did accept risk in some areas of the budget in terms of slowing down things, such as Abrams modernization and other things, in an effort to protect the highest interests," Bush said at the time. "But there was an attempt to do that wisely, to not damage the industrial base as part of that, and to not place undue risk, while there was always some risk, on the operational force by slowing down modernization efforts outside of the [signature systems]."
Before working with the Army, Bush served as the House Armed Services Committee's deputy staff director, where he was responsible for committee operations and advised Rep. Adam Smith (D-Wash.), the panel's chairman, on policy matters. 
Biden has also named Carrie Ricci as his nominee for the Army's next general counsel.
Ricci, a retired Army lieutenant colonel, is currently the associate general counsel for the Department of Agriculture. 
The White House also announced Biden has nominated Ashish Vazirani, the former CEO of the National Military Family Association, to serve as the next deputy under secretary of defense for personnel and readiness. 
Vazirani, a former Navy submarine officer, has most recently worked as a principal consultant with A2O Strategies where he "provides advisory services to commercial and non-profit, high growth and large enterprises, on the development, implementation, and execution of growth strategies," according to the White House.