The Army has selected General Dynamics Ordnance & Tactical Systems [GD] and American Ordnance
to compete for orders to produce 155mm artillery rounds under a new $993.8 million contract.
Under the deal, officially awarded on Wednesday, the Army said it aims to expand manufacturing capacity of 155mm M795 projectiles to produce an additional 12,000 to 20,000 rounds per month.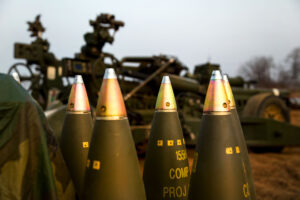 GD OTS and American Ordnance were the only two firms to submit bids for the work, with the contract running through February 2028.
Doug Bush, the Army's top acquisition official, has detailed the service's focus on ramping up production of 155mm ammunition in the coming years and said he expects there will be "several big awards" in February and March related to replenishing stockpiles of critical munitions sent to Ukraine (Defense Daily, Jan. 26).
The final version of the fiscal year 2023 National Defense Authorization Act included a provision allowing the Pentagon to use multi-year contracts for select critical munitions procurements, to include M1113, M107 and M795 155mm artillery rounds.
In November, the Army awarded IMT Defense a $391 million contract to produce 155mm M795 projectile shell bodies and a separate task order to GD OTS to build a new 155mm artillery metal parts production line (Defense Daily, Dec. 8). 
The Army said at the time both deals were accelerated contracting efforts to "significantly increase production capacity" for 155mm artillery shells, as the service looks to replenish stockpiles of munitions transferred in large numbers to help support Ukraine.
Late last month, the Army awarded $522.3 million with Ukraine Security Assistance Initiative funds to Northrop Grumman [NOC] and Global Military Products, a division of Global Ordnance, to produce 155mm artillery ammunition for Ukraine (Defense Daily, Feb. 14). 
"This effort complements the Army's efforts to significantly increase domestic production of 155mm ammunition and associated items," Army spokeswoman Ellen Lovett said in a statement to Defense Daily. 
Deliveries of the 155mm ammunition to Ukraine are expected to begin in March, according to the Army.