HUNTSVILLE, Ala. — The Army is aiming to increase production of 155mm artillery shells to 85,000 rounds per month by 2028, over four times its current rate, Under Secretary Gabe Camarillo said on Tuesday.
Following Camarillo's remarks at the Association of the United States Army's Global Force Symposium here, acquisition executive Doug Bush told reporters the Army could potentially reach the goal by 2028 "or earlier" if it adds even more production lines.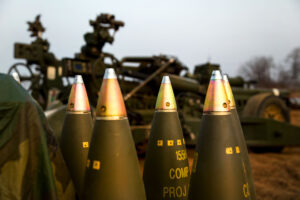 Bush reiterated the Army is on track for its current goal of a "five-fold increase" in 155mm ammo production up to 70,000 rounds a month by 2025.
"That's on track and we're hoping to do that even faster," Bush said during a press briefing at the conference. 
Army Secretary Christine Wormuth told reporters last month the Army has already increased 155mm shell production capacity from 14,000 to 20,000 rounds per month, as the service looks to boost production capacity while it continues providing critical munitions to Ukraine and replenishes its own inventories (Defense Daily, Feb. 23). 
Bush said the Army is adding new factories to assist in the effort to boost 155mm ammo production, to include one in Texas for manufacturing additional shell bodies and another in Canada. Additionally, it is adding capacity at factories in Iowa and Kansas tasked with loading shells with explosives.
"The rampup is happening. Congress has already funded it. We are everyday looking at ways to pull it to the left and get the numbers higher working with our industry partners but also the folks at our Army depots and ammunition plants. And that's happening," Bush told reporters. "It's not all in one place. It's literally building new factories and putting advanced machine tools in them. That's really the only way to do it."
The Army in February selected General Dynamics Ordnance & Tactical Systems [GD] and American Ordnance to compete for orders to produce 155mm artillery rounds under a new $993.8 million contract, noting the deal will help expand manufacturing capacity of M795 projectiles to produce an additional 12,000 to 20,000 rounds per month (Defense Daily, Feb. 17). 
In November, the Army also awarded IMT Defense a $391 million contract to produce 155mm M795 projectile shell bodies and a separate task order to GD OTS to build a new 155mm artillery metal parts production line (Defense Daily, Dec. 8).