The Army said Monday its Next-Generation Combat Vehicle (NGCV) cross-functional team will hold a roundtable in December with small businesses to address logistics challenges for its future vehicle programs.
The NGCV CFT is seeking small business' input on solutions to improve logistics contracting, processes and deliverables as the team looks to progress major efforts, such as the Optionally- Manned Fighting Vehicle (OMFV) and Robotic Combat Vehicle (RCV), toward initial programs of record.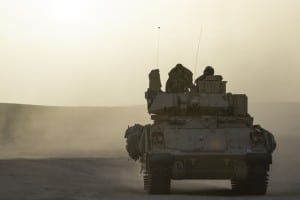 "The roundtable should delve into the state of the logistics community, and uncover whether change is needed to overcome challenges that are problematic to the government, contractors and products for our soldiers," officials wrote in a notice. "This opportunity may also be used for firms to present a possible solution to a related logistics problem area."
Officials on the CFT are soliciting industry's feedback on challenges they face both pre- and post-award with an aim of fixing "historically long logistics acquisition timelines, and quality and timeliness of logistics product."
For major efforts such as the Bradley-replacing OMFV and working toward a fleet of RCVs, the Army said it wants to address ways to better plan sustainment and logistics management and execution of logistics contract processes.
The Army recently accepted proposals for OMFV's prototype phase, with plans to award an eventual production contract in 2023 and scheduled fielding to start in 2026 (Defense Daily, Oct. 1).
Responses to express an interest in attending the roundtable, which will take place in the Detroit metro area, are due to the Army by Nov. 1.
Army officials will then send invites to select small businesses based on their experience with logistics-based contracts.