Fiscal year 2019 will have been a stable year for U.S. foreign military sales with $68 billion worth of cases – should all approved deals come through – with contractors Lockheed Martin [LMT] and Raytheon [RTN] leading the industry pack.
The approved sale amount for the fiscal year ending Sept. 30 is just short of FY '18's $70 billion and FY '17's $73 billion totals, and Lockheed Martin topped with 100 approved sales worth about $32.4 billion last fiscal year, according to an Oct. 4 report by analyst Roman Schweizer of the Cowen Washington Business Group.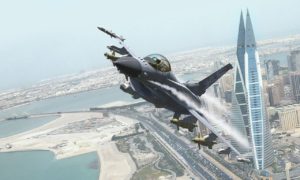 The company's biggest sales involved an $8 billion sale of 66 F-16C/D Block 70 fighter aircraft to Taiwan approved in August, and a $6.5 billion sale of 32 F-35A Joint Strike Fighters to Poland approved in September. The U.S. government also approved the sale of Lockheed Martin's F-16 aircraft and upgrades to Morocco and Bulgaria, MH-60R helicopters to India, South Korea and Greece, PAC-3 MSE missiles to the United Arab Emirates and Germany, and two units of the Aegis Ashore missile defense system to Japan.
Raytheon had the second-most approved FMS sales with $15.1 billion, primarily for its Patriot defense system or its associated missiles approved for sale to Turkey and Bahrain, and SM-3 missile variants to Japan and South Korea. Boeing [BA] followed with $9.1 billion, General Dynamics [GD] with $3.8 billion, Northrop Grumman [NOC] with $1.2 billion and Textron [TXT] with $588 million.
Out of the 601 FMS cases analyzed by Schweizer, 236 involved nations in the Asia-Pacific, 201 were to European partners and 164 were to partners in the Middle East and North Africa region.
Schweizer noted that several politically sensitive deals could cut the $68 billion total down if they are not actually completed, all in all worth about $14 billion or about 20 percent of the total by themselves.
Turkey has been approved to procure the Raytheon-made Patriot missile defense system for $3.5 billion, but is unlikely to move ahead with that deal so long as it retains the Russian-made S-400 weapon system. The United States would like for Turkey to discard the S-400 – which officials have deemed is incompatible with the F-35 Joint Strike Fighter system – and procure the Patriot instead.
Schweizer noted a "legitimate concern" that $10 billion in approved sales to Taiwan, including the F-16 aircraft sale as well as approved General Dynamics M1 Abrams tanks, could be halted "if there is a broader strategic agreement with China on trade and economic issues."