The Army said Thursday it has completed its first cohort program to find new field artillery autonomous resupply (FAAR) technologies, which resulted in concepts for modular robotic arms, automated supply chains and an ammunition management system.
The Long Range Precision Fires Cross Functional Team (LRPF CFT) will now look for opportunities to apply the six participants concepts and emerging technologies with future requirements for major weapon systems programs.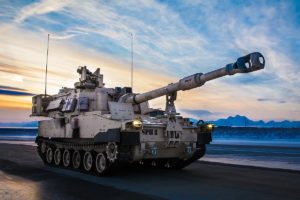 "We want to apply this to our model and to our more traditional dealings with industry partners," Brig. Gen. John Rafferty, director of the LRPF CFT, said in a statement. "There are a lot of people who have only done things one way. But this reminded us how many really smart people are out there wanting to help us. What if we have routine periods of collaborating that were more serious than just monitoring the contract… that were actually about solving the problem? This type of exchange should be happening routinely. We should be fostering that. It's much more powerful."
The six companies that participated in the 12-week FAAR Cohort were Actuate, robotics firm Apptronik, Carnegie Robotics, Pratt & Miller Engineering, advanced unmanned systems developer Neya Systems and visualization provider Hivemapper.
"This is exactly the sort of thing we like to do every day — innovate and find solutions to really challenging problems," Matt Carroll, CEO of Pratt & Miller, said in a statement.
The cohort officially started in January when each company received $150,000 to work on their autonomous resupply concepts, with the program culminating with capability presentations on April 1.
"I was blown away by the evaluation of our ammunition process and, in some ways, how amateur it looks to an outsider. It just shows how much we can benefit from this collaboration and from the technology that's out there that can be applied to a military problem," Rafferty said.
The FAAR cohort was part of the new Army Capability Accelerator approach to help bring in more non-traditional partners on applied research projects as Futures Command looks to pair emerging concepts with modernization efforts.