The Army is ahead of schedule in its effort to move users from the legacy Defense Enterprise Email system into the new "Army 365" environment, officials told reporters this week, with more than 50 percent of accounts migrated onto the cloud-based collaboration platform.
Raj Iyer, the Army's chief information officer, and Lt. Gen. John Morrison, the deputy chief of staff for the Army G-6, said they believe the Army will reach the 60 percent mark by the end of year, as the service continues transitioning to the new Microsoft
[MSFT]-based collaboration platform.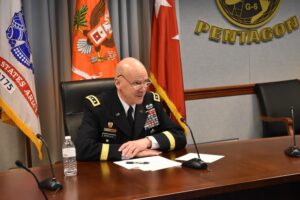 "We've really looked at this implementation from an operational lens and we've treated it as an operation. This is Army-wide. We are at this point ahead of schedule, in terms of the migration efforts. Where we are seeing issues, I believe we are closing them out in a timely manner," Iyer said. "For an Army that's the size and scale that we are, with 1.4 million users and so many varying missions that we support, working through this with the best possible way that we can at this time. The numbers are showing that we're making good progress" 
Army 365 is leveraging Microsoft Office 365 tools and includes transitioning off the temporary Commercial Virtual Remote (CVR) collaboration environment stood up in the early days of the pandemic to support remote work, migrating off the legacy Defense Enterprise Email (DEE) system and providing access to an updated SharePoint system.
The Army has said the initiative to upgrade its back office tools is intended to improve collaboration and connectivity, bolster operational effectiveness and increase cyber security while reducing overall costs. 
"I will tell you, it has been quite a journey over the last 90 to 120 days. We've really gotten into the throes of migrating into the Army 365 environment," Morrison said. "As we've operated in this [Army 365] environment, and we continue to operationalize it and realize that this is really our first large venture into software-as-a-service inside our Army, we are learning a ton as we move down this road."
Morrison noted the Army began to transition users to the new Army 365 environment in August, with sights set on approaching the 60 percent mark over the next few weeks. 
"That's a significant improvement from the last time we did a migration of this case, where I would submit to you it took us years to get to this level of a transition. In a span of a very short amount of time, we have moved at a much, much faster clip," Morrison said.
The Army is also planning to expand its "bring-your-own-device" pilot effort early next year after an initial test run to assess how users can access information on their own personal devices securely showed "tremendous operational benefit." 
"In all candor, we also see some fiscal opportunity as well. So we want to explore that and we will do an expanded pilot as we head into the spring," Morrison said.   
During the discussion, Morrison and Iyer also shared their 2022 priorities for the Army's new digital transformation strategy and Unified Network plan, to include further experimentation with commercial computing infrastructure and expanding classified network capabilities (Defense Daily, Dec. 14).