The Air Force has declared a Milestone C decision for its forthcoming new combat rescue helicopter, giving manufacturer Sikorsky the green light to begin production.
Sikorsky, a subsidiary of Lockheed Martin [LMT], announced the decision Sept. 24 and said in a statement it is ready to begin production, with five combat rescue helicopter (CRH) aircraft in various stages of production at the company's facility in Stratford, Connecticut. The company was contracted by the Air Force to develop the CRH to replace its fleet of aging HH-60G Pave Hawks, also built by Sikorsky.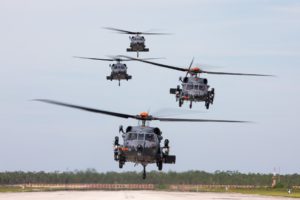 "We have just successfully gained approval to launch the production of a helicopter that will save the lives of our warfighters and our allies all over the world," said Air Force Col. Dale R. White, Program Executive Officer, Intelligence, Surveillance, Reconnaissance and Special Operations Forces in the statement.
"This affirmative Milestone C decision validates the modifications to Sikorsky's most successful Black Hawk helicopter, making it capable of saving downed airmen anytime, anywhere around the world," said Greg Hames, Sikorsky program director Tuesday. "This establishes the Combat Rescue Helicopter as a production program."
The joint Sikorsky and Air Force flight test team has executed over 150 hours of envelope expansion flights, which provided the necessary data to reach the Milestone C decision, Sikorsky said Wednesday.
Hames told Defense Daily in a Sept. 9 interview that plans are in place for a rollout schedule to take place Oct. 9 at Sikorsky's West Palm Beach, Florida, facility (Defense Daily, Sept. 9).
Sikorsky is on contract to deliver nine test aircraft – four engineering and manufacturing development (EMD) models and five system demonstration test article (SDTA) platforms – and one airframe systems trainer to the Air Force. The $1.6 billion EMD phase contract was awarded in 2014. The service has expressed a desire to procure 113 CRH aircraft overall for just over $7 billion.
Hames noted that low-rate initial production (LRIP) Lots 1 and 2 are expected to include about 10 to 12 aircraft. The company is in the process of responding to the Air Force's proposal for full-rate production lots 3, 4 and 5, which would each include between 10 and 20 aircraft.
When the LRIP phase is approved, Sikorsky would begin building around one HH-60W aircraft per month on average, Hames said.