As Capitol Hill has been set abuzz with the news Sept. 24 that House Democrats will open an impeachment inquiry against President Trump, negotiators for the fiscal year 2020 National Defense Authorization Act (NDAA) said they believe the authorizing bill debate will remain isolated from the impeachment issue.
Speaker of the House Nancy Pelosi (D-Calif.) said Tuesday that she will open a formal impeachment inquiry following reports that Trump has improperly pressured Ukrainian President Volodymyr Zelensky to investigate the 2016 presidential election and former Vice President Joe Biden's previous dealings with the Eastern European nation, while threatening to withhold military and diplomatic aid to Kyiv in the meantime. Trump has denied the claims of  impropriety.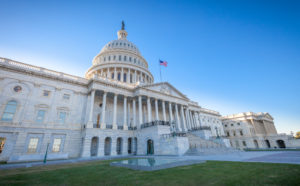 The potential impact on the ongoing FY '20 NDAA negotiations appear minimal for now. Analyst Byron Callan of Capital Alpha Partners said in a Tuesday email to investors that while the risk of a longer continuing resolution or a government shutdown is possible due to "a partisan environment on steroids," the company is not willing to change its odds of outcomes yet.
Senate Armed Services Committee Chairman Jim Inhofe (R-Okla.) told reporters Sept. 25 that he feels "pretty sure" that the NDAA negotiations will not be impacted by the impeachment developments. He told Defense Daily that he had attended a meeting of the "Big Four" – the chairmen and ranking members of both the House and Senate Armed Services Committees – earlier on Wednesday and "nobody even brought it up."
Other SASC subcommittee leaders told Defense Daily on Wednesday that they similarly are optimistic that the NDAA will be spared from diversions coming out of the House impeachment inquiry.
"We're able to walk and chew gum at the same time," said Sen. Angus King (I-Maine), ranking member of the SASC Airland subcommittee.
Sen. Tim Kaine (D-Va.), the ranking member of the SASC Readiness and Management Support subcommittee, echoed that statement, adding, "I think the Big Four will avoid that happening."
Kaine added that discussions with SASC Ranking Member Jack Reed (D-R.I.) suggest that progress is ongoing to reach a conference NDAA bill. "The areas of controversy are being whittled down," he said.
Inhofe reasserted Wednesday that a conference NDAA bill is not expected to be revealed until mid-October, after lawmakers return from their fall recess, which takes place from Sept. 30 to Oct. 15. He told reporters Tuesday that a "technical glitch" had caused negotiators to begin talks later than scheduled, which contributed to the delay.
The Senate version of the FY '20 defense appropriations bill is also not expected to go to the chamber floor before mid-October, Senate Appropriations Committee Chairman Richard Shelby (R-Ala.) said Wednesday. Democrats blocked an effort to advance the bill on Sept. 18.
Shelby said he is working to schedule a meeting at the White House on Thursday to speak with Trump about "how we can move [appropriations bills], what's it going to take" to pass them in light of the impeachment inquiry news.
"We will try to keep working the process on appropriations, but it will take a lot of the oxygen out of the air," he said, noting that based on his experience as a senator during the impeachment of former President Clinton, the impeachment developments will be "the news of the day, over and over."
The $693 billion defense spending bill will require more negotiation before Democrats will be willing to support a vote on the Senate floor, he acknowledged.
"I talked to [Senate Minority Leader Sen. Chuck Schumer (D-N.Y.)] today about that, and he said that's not a go yet, not now," Shelby said.
In the meantime, he is urging Senate Majority Leader Mitch McConnell (R-Ky.) to allow for several smaller appropriations bills to be put on the floor Thursday to fund other areas of government, he added.