The White House recently announced it "strongly opposes" several provisions related to Navy shipbuilding and retention in the Senate's fiscal year 2023 defense authorization bill.
The Office of Management and Budget (OMB) published a Statement of Administration Policy on Oct. 19 that said it "strongly opposes multiple provisions that would limit DoD's ability to divest or retire lower-priority platforms and certain Navy Littoral Combat Ships, amphibious ships, and expeditionary transport dock ships."

The bill would prohibit the Navy from retiring 12 ships earlier than previously planned in FY '23, including five Littoral Combat Ships, four dock landing ships, and two expeditionary transfer dock ships and the Ticonderoga-class cruiser.
The Navy's FY '23 budget request included plans to retire 24 ships to save $3.6 billion over five years, including five cruisers, two Los Angeles-class submarines, nine Freedom-variant Littoral Combat Ships, four Whidbey Island/Harpers Ferry-class dock landing ships (LSDs), and several Military Sealift Command roll on/roll off cargo ships, replenishment oilers, Expeditionary Transfer Dock ships (ESDs), and Cyclone-class patrol ships.
The Senate bill would force the Navy to retain the USS USS Vicksburg (CG-69), Sioux City (LCS-11), Wichita (LCS-13), Billings (LCS-15), Indianapolis (LCS-17), St. Louis (LCS-19), Germantown (LSD-42), Gunston Hall (LSD-44), Tortuga (LSD-46), Ashland (LSD-48), USNS Montford Point (T-ESD-1) and USNS John Glenn (T-ESD-2).
The Senate bill also matches the House version at setting 31 as the minimum number of amphibious warships the Navy should retain. The bill also said at least 10 of the vessels should be amphibious assault ships (Defense Daily, June 7).
Marine Corps officials testified before congressional panels this year that the service would take more risk in non-Indo-Pacific regions if the amphibious force goes down from 31 to 24 ships as planned in the Navy budget over the next several years, with the force not expected to reach 31 again until at least 2030 (Defense Daily, May 19).
Without congressional alteration, the Navy is looking to retire LSDs three to 14 years earlier than previously planned.
"Requiring the Department to maintain a minimum inventory of major platforms would limit the Secretary of Defense's ability to optimize future force structure, increase the long-term cost of sustaining the force, and further delay necessary efforts to keep pace with the challenge posed by the People's Republic of China in key warfighting areas," the White House said.
Notably, LCS-19 was commissioned only in 2020 and Vicksburg has had modernization work underway since 2020, with work originally expected to be finished by early 2021.
During a House Armed Services Committee hearing in May, a Navy official said work on CG-69 was about 85 percent complete (Defense Daily, May 19).
In April, Vice Adm. Scott Conn, Deputy Chief of Naval Operations for Warfighting Requirements and Capabilities, N9, said he was unsure if the cruisers conducting modernization work would be finished due to various delays and difficulties, including Vicksburg (Defense Daily, April 25).
"The Administration particularly opposes excessive authorization levels for platforms and systems that cannot be affordably sustained or modernized in order to provide survivable, lethal, and resilient forces in the current threat environment. The President's Budget for FY 2023 was developed in a thoughtful and deliberate way to match resources to strategy and strategy to policy," the document continued.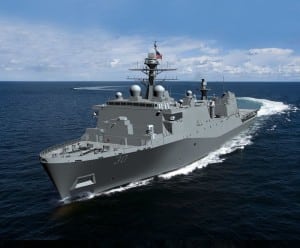 "The cost to sustain a platform over its lifetime is often more than double the cost to procure it; funding only the latter drives persistent and significant imbalance in the defense program which contributes to poor readiness outcomes," it added.
The White House argued these limitations would "unduly constrain evolutions in joint warfighting approaches and associated capability prioritization."
The administration also urged Congress not to add Advanced Procurement funding for the San Antonio-class Flight II Amphibious transport dock ship, LPD-33, an internal disagreement between the Marine Corps, Navy and Office of the Secretary of Defense.
The bill includes $250 million to start work on LPD-33, the top item on the Marine Corps' FY '23 unfunded priorities list. This also matches a House bill provision (Defense Daily, April 1).
"The Department remains focused on investing in the right mix of capabilities, including future amphibious platforms, to deliver the ships the Joint Force needs to campaign in the Indo-Pacific region and implement the 2022 NDS," the White House statement said.
In April, Principal Civilian Deputy to the Assistant Secretary of the Navy for Research, Development and Acquisition Jay Stefany said the Navy wants to stop buying these San Antonio-class Flight II ships after the third in the variant, LPD-32, while it decides whether to build more or possibly start building a new or modified design (Defense Daily, April 22).
He noted that according to the LPD building profile, with LPD-32 in the budget, the Navy would not have to buy another vessel until 2025 to retain the build rate.