The U.S. has approved sending another $1 billion in weapons assistance to Ukraine, with the new package including delivery of Harpoon anti-ship missiles and additional munitions for the longer-range rocket systems provided in a previous package.
The latest deal to aid Ukraine in its fight against Russia's ongoing invasion is specifically split between $350 million in equipment to be pulled from existing Pentagon inventories and $650 million worth of capabilities provided through the Ukraine Security Assistance Initiative (USAI) program where weapons will be procured from industry.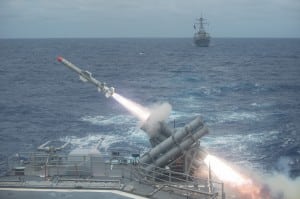 The $350 million authorization, which is the 12th drawdown of equipment since August 2021, covers 18 more M777 howitzers with 36,000 rounds of 155mm ammunition, 18 tactical vehicles to tow the howitzers, four tactical vehicles to recover equipment and additional Guided Multiple Launch Rocket System (GMLRS) munitions for the High Mobility Artillery Rocket Systems (HIMARS) included in the last security assistance package to Ukraine.
For the $650 million in USAI funds announced Wednesday, the Pentagon will facilitate contracts to buy the two Harpoon coastal defense systems for Ukraine, as well as thousands of secure radios and night vision devices.
Denmark has previously provided Harpoon anti-ship missiles to Ukraine in recent weeks.
Details of the latest weapons support package arrived the same day as the third U.S.-led meeting of the Ukraine Defense Contact Group, where officials from 48 countries gathered at NATO's headquarters in Brussels to hear directly from senior Ukrainian military officials on the country's equipment needs and detailed the latest equipment support.
"Everyone here is acutely aware of the dangers that Ukraine faces as Russia renews its reckless assault on the Donbas. [Ukrainian] Minister [of Defense Oleksii] Reznikov and his team gave us important insights into the changing battlespace and a clearer understanding of Ukraine's priority requirements as the war shifts," Defense Secretary Lloyd Austin said in a press conference following the meeting. "I'm very thankful to these countries and to all of the countries that are helping Ukraine to defend itself even as the war shifts and Ukraine's most urgent needs continue to evolve."
The meeting, which included participation from Ecuador, Georgia and Moldova for the first time, also included announcements from Slovakia that it plans to send Mi-series helicopters to Ukraine and discussions on "important new artillery donations" from Canada, Poland and the Netherlands, according to Austin.
Austin also noted Germany detailed plans to provide three Multiple Launch Rocket Systems and GMLRS munitions to Ukraine, joining the U.S. and U.K. in now providing longer-range rocket systems.
"We're working shoulder-to-shoulder with both the U.K. and now Germany as we develop Ukraine's long-range fires capabilities. This effort also builds on our transfer of HIMARS," Austin said.
Rep. Adam Smith (D-Wash.), chair of the House Armed Services Committee, told reporters Wednesday he is communicating with the White House "near constantly" on getting more equipment to Ukraine, to include suggesting the U.S. should provide Gray Eagle drones to bolster its defense capability.
"I don't think we have been fast enough to get the Ukrainians the drones that we have available. There's a big debate going on with the Gray Eagles. I think we ought to get them that equipment more quickly," Smith said during a Defense Writers Group discussion. "I think when it comes to drones and when it comes to long-range artillery, we've been too cautious."
Smith added he personally disagrees with the caution over giving Ukraine weapon systems that could strike into Russia, reiterating the importance of providing longer-range systems so Kyiv can defend itself from safer distances within its own borders.
"I don't agree with the president's take that we can't give the Ukrainians anything capable of striking Russia. I mean, Ukraine borders Russia. If you give them a mortar shell that can go a mile, theoretically it can strike Russia. The issue is if the Russians are able to see better and shoot further then you're in a disadvantage. So I think we should give [Ukraine] more of that," Smith said. "My sense is the consensus among the committee is we need to be more aggressive about what we're giving to [Ukraine]. That I'll say with great confidence in a bipartisan way, a sense that we could be doing more in terms of the type of weapons that we're sending to them."
To date, the U.S. has now committed more than $6.3 billion in security assistance to Ukraine since the start of the Biden administration, to include more than $5.6 billion since the beginning of the Russian invasion.