A Navy official this week said the Defense Department is "pretty close" on final approval of the Joint All-Domain Command and Control (JADC2) strategy.
"Unclear if the intent is to release that strategy…but I'll tell you we're pretty close on that strategy," Vice Adm. Jeffrey Trussler, Deputy Chief of Naval Operations for Information Warfare, N2/N6, said during a virtual Navy League event April 6.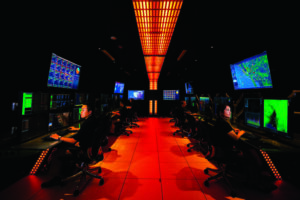 The JADC2 concept seeks to connect sensors from all of the military services into a single network to better enable multi-domain operations. It envisions using a cloud-like environment to allow the joint force to share intelligence, surveillance and reconnaissance data to help enable faster decision making.
The Navy's portion is called Project Overmatch, which intends to develop a new fleet architecture network to better enable distributed operations and manned.unmanned teaming and provide better interoperability with the other services. Last October, Chief of Naval Operations (CNO) Adm. Michael Gilday directed Rear Adm. Douglas Small, commander of Naval Information Warfare Systems Command, to lead the project to build the new Naval Operational Architecture (Defense Daily, Oct. 15, 2020).
Trussler noted Lt. Gen. Dennis Crall, the joint staff's director of Command, Control, Communications and Computers/Cyber and Chief Information Officer, is leading the JADC2 strategy effort.
Trussler said when Crall took over last fall, he took a fresh look at how the effort was going.
"First thing he did was say, 'Hey, we need a strategy.' So we need a strategy that the services, as they develop capabilities, can point to. And he's been working that with this cross functional team and with the services for a couple of months now."
"We're all in the review process of that right now and I think it is very close to actually being approved," Trussler said..
However, he said while he is unsure if a public version of the strategy will be released, "it may actually raise more questions than it answers because people are wanting to know what are the technical details, what is the thing that is going to be delivered."
"It's not going to talk about that. It's going to talk about strategy of how the services are going to need to approach this, how we're going to need to collaborate, it's going to give us some left and right boundaries so we don't invent something that doesn't work with everything else," Trussler continued.
"The approval of it is imminent as far as I'm concerned."