The State Department has approved a possible $5.62 billion deal with the Czech Republic for 24 F-35 Joint Strike Fighters and munitions.
The Defense Security Cooperation Agency (DSCA) notified Congress on Thursday of the new foreign military sale.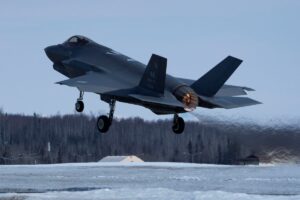 The approval of the deal follows the Czech defense ministry's announcement last July it had selected the Lockheed Martin [LMT]-built F-35 to replace its current fleet of Saab's Gripen fighter jets.
"Our decision to select this option is based on the analysis by the Czech Armed Forces, which clearly articulates that only the most advanced 5th generation fighters will be able to meet mission requirements in future battlefields," Czech Defense Minister Jana Černochová said in a statement at the time. "We must not hesitate, because the lead times take years."
Along with the two dozen F-35As, the Czech Republic will also receive 25 Pratt & Whitney [RTX] F135-PW-100 Engines.
The deal also covers a range of munitions, to include 70 of RTX's [RTN] AIM-120C AMRAAM missiles, 80 GBU-53/B StormBreaker precision-guided glide bombs and 50 AIM-9X Sidewinder missiles.
"The proposed sale will improve the Czech Republic's defense capabilities as well as support NATO operations by guarding against modern threats and maintaining a constant presence in the region," the DSCA said in a statement.