The Secretary of the Navy this month said while some additional Littoral Combat Ships (LCS) may decommission going forward, he wants to put Naval Strike Missiles (NSMs) on as many LCSs as he can.
"We'll, perhaps, propose a few more smaller number divestments of those ships that are the least capable in terms of the high end fight, for the purpose that we need them. But I'm very enthused about the future of LCS and what we're gonna do with it. And you know, we need to put Naval Strike Missile on each and every single one of them," Secretary Carlos Del Toro said during the Surface Navy Association's annual symposium on Jan. 11.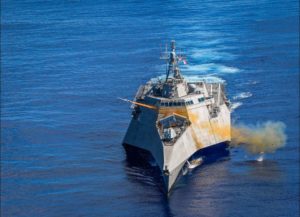 The NSM anti-ship cruise missile was developed by Norway's Kongsberg. The producer is partnered with Raytheon Technologies [RTX] to integrate it on U.S. Navy ships.
The Navy's FY '23 budget request included plans to retire test ship LCS-3 and eight Freedom LCSs due to the costs of fixing a combining gear defect and canceling their planned anti-submarine warfare mission package due to severe technical challenges (Defense Daily, April 25, 2022).
The LCSs were originally expected to have service lives of 25 years each.
However, the final FY '23 defense authorization bill only allowed the Navy to retire 12 ships total, including four LCSs.
Del Toro reiterated the Navy's ideas to use LCSs particularly in Central and South America for anti-drug and illegal fishing missions with partner countries.
"I look forward to flying LCS, to its fullest, with all the years that they have remaining. But, you know, the challenge that originally I faced when I came in as secretary and the CNO faced in the years prior, is the challenges that we have with the underwater system on the Freedom-class. And so that presented a real threat and a real challenge. And so we have to make some difficult choices. There are no easy choices at the Secretary level, I guarantee that."
Following his remarks, Del Toro told reporters if there are specific hull by hull decommissioning decisions, they will look into that for the president's 2024 and 2025 budget requests. Additional retirements would be due to the LCSs being not as capable or competent as alternative ships.
However, Del Toro declined to confirm the NSMs would be put on every remaining Freedom-class LCS. The NSM is due to be installed on the future Constellation-class frigates as well.
Although he said he wants to put NSM on as many as they can, "I'm not going to get too detailed into the operational utility of the ships, because I also don't want to necessarily reveal what is ahead either."
When pressed if the Freedom-class will get the NSMs like the Independence-class is set to, he argued he does not want to reveal plans to China.
"Why would I want to reveal to the Chinese exactly what we're doing with all our platforms?…We're exploring all options on LCS."
In contrast, Rear Adm. Fred Pyle, director of surface warfare on the CNO's staff (OPNAV) N96, separately told reporters the Navy plans to put Naval Strike Missiles (NSM) on both LCS variants.
"For the platform, we will continue to remain committed to survivability and lethality, to get the NSM missile on all the platforms, so we make that ship more lethal."
Pyle confirmed that includes the Freedom-class.
Last month, the Navy issued a notice seeking companies that can produce the NSM for a potential multi-year procurement contract in accordance with using a Technical Data Package (Defense Daily, Dec. 13).
The final fiscal year 2023 defense authorization bill gave the Navy multiyear procurement authority to buy up to 1,250 Naval Strike Missiles (Defense Daily, Dec. 7).