The Acting Navy Secretary said the Defense Department hopes to submit the fiscal year 2022 budget request to Congress in May and they have not yet identified service policy changes the new Biden administration wants to make yet.
"The timeline for us to present the budget is to hopefully get something over to Congress in May, with a lot of work being done internal to the department as we look at that," Thomas Harker said Tuesday during the National Defense Industrial Association's 2021 Virtual Expeditionary Warfare Conference.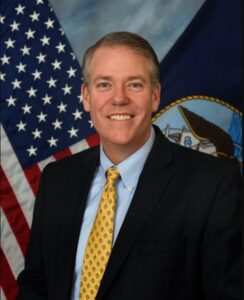 "Right now, we are working with the new administration and being part of that administration…continue to work with the folks as they come onboard so that we can identify exactly what changes they want to make in the budget coming forward," Harker continued.
Harker succeeds former Secretary of the Navy Kenneth Braithwaite, who resigned on Jan. 20 when the Biden administration was sworn in. He previously served as the Assistant Secretary of the Navy for financial management and comptroller since 2018 and also was Acting Undersecretary of Defense and Comptroller since July 2020 (Defense Daily, Jan. 21).
He added a number of officials have been nominated for the Defense Department and Office of Management and Budget, "and so as those people start filling in we anticipate getting more clarity on the priorities of the administration as we go forward."
Harker said the Trump administration had an "aggressive focus on shipbuilding" in its work on the FY 2022 budget request. This included diverting funds and identifying internal efficiencies to redirect towards additional shipbuilding. He said the Navy kept good records that will allow the Biden administration to make changes as it chooses.
"I was involved with that along with many, many other people. And one of the things that we did while building that was identify exactly what went in, across various tranches, so the new [administration] would have the ability to come in and make changes based on administration priorities."
This likely references the Stem-to-Stern strategic review directed by former Acting Secretary of the Navy Thomas Modly a year ago that aimed to reach $8 billion in savings per year for $40 billion in savings over five years, largely to redirect into additional shipbuilding (Defense Daily, Feb. 19, 2020).
Furthermore, in October, Braithwaite said the Navy was able to find $46 billion in savings to shift to shipbuilding. He also said former Secretary of Defense Mark Esper challenged him to find more savings that would be matched with additional funds redirected from reform across the DoD enterprise. The officials said the combined efforts would increase the shipbuilding account to be 12 percent of the Navy's topline budget (Defense Daily, Oct. 30, 2020).
Harker said he does not know the Biden administration priorities, but he noted how new Secretary of Defense Lloyd Austin said the pacing threat is China.
"Which means that it's a maritime strategy. So we require a strong maritime force, joint Navy-Marine Corps force that's ready to provide credible deterrence to China."
Harker admitted he does not think everything in the recent 30-year shipbuilding plan will stay, "but I think there are some key elements of that that absolutely will. I anticipate continued investment across several lines where we exist."
For example, he said the Navy has gone forward with a reprogramming to potentially open up a second shipyard to build Constellation-class frigates.
The 30-year shipbuilding plan, delivered 10 months late in December, said by 2025 the Navy plans to add a second frigate shipyard to boost procurement up to four ships per year. The current 10-vessel contract was awarded solely to Fincantieri Marinette Marine (Defense Daily, Dec. 10).
"So I think there's a strong interest for allowing us to continue to grow the naval force to get up to 355-plus ships," he said.
Relatedly, Harker praised Marine Commandant Gen. David Berger's Force Design 2030 as a "prime example of how you go about transforming an organization."
He praised it as budget neutral, focusing on savings for divestments inside the Marine Corps that are reinvested in the service. He said the new administration approves of that strategy.
"Both sides of the aisle, the previous admin as well as the folks coming in on the transition team have talked about how that just makes sense and it's a good strategy going forward. I anticipate that continuing," he said.
The Marine Corps released Berger's force design plan last March (Defense Daily, March 24, 2020).