Raytheon [RTN] and the Navy conducted a dual-target test as part of the last developmental test of the latest generation of the Ship Self Defense System (SDSS) used by the aircraft carrier USS Gerald R. Ford (CVN-78).
The test occurred off the California coast using the Navy's unmanned Self Defense Test Ship to simulate a raid situation CVN-78 might encounter when it deploys. In the exercise two anti-ship missile surrogate targets were located, classified, tracked, and engaged SSDS integrated combat system (ICS) adapted for CVN-78.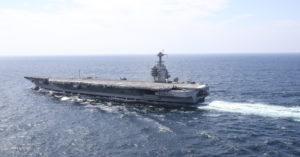 "This successful dual-target test demonstrates the maturity of the Ship Self Defense System ICS and paves the way for operational testing to begin," Mike Fabel, Raytheon's SSDS program manager said in a statement.
"SSDS is a critical capability that enables CVN 78 to defend herself and her crew against current and emerging threats," he added.
Raytheon's system is a distributed combat management system in service on American aircraft carriers and amphibious ships to coordinate various sensors, weapons, and countermeasures on non-Aegis combat systems vessels.
The ICS includes dual band radar, cooperative engagement capability, Ship Self Defense System, and Evolved SeaSparrow Missiles and Rolling Ariframe Missiles.
Raytheon said with this latest test, the SSDS ICS has now successfully engaged three out of three targets over two test exercises.