The Pentagon and the General Services Administration have tapped a team led by CSRA, now part of General Dynamics [GD] IT (GDIT), for a potential 10-year, $7.6 billion contract to deliver enterprise cloud computing services.
GDIT, and its teaming partners Dell [DELL] Marketing L.P. and Minburn Technology Group LLC, were awarded a blanket purchase agreement for the Defense Enterprise Office Solutions (DEOS) program to replace DoD's legacy IT office applications with a cloud-based solution.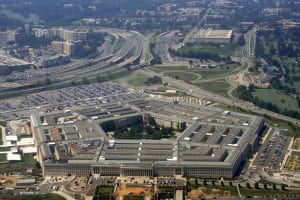 "DEOS is a great example of a fit-for-purpose cloud that supports our multi-cloud strategy," DoD CIO Dana Deasy said in a statement. "DEOS will streamline our use of cloud email and collaborative tools while enhancing cybersecurity and information sharing based on standardized needs and market offerings."
The GDIT team is tasked with building off Microsoft's [MSFT] 0365 platform, as the Pentagon looks to build a more effective cloud tool for its email, file sharing and storing applications. 
"The journey to the cloud has been, and will continue to be, an iterative learning process. All lessons learned from pilot programs and the department's early cloud adopters have been rolled into this solution. DEOS takes advantage of technical, security and contractual lessons from these ongoing pilots, while military services are leveraging them to assess the readiness of their infrastructure to support migration to DEOS," Deasy said.
Defense Information System Agency officials told reporters last November DoD shifted the DEOS procurement process to GSA to leverage the agency's Schedule 70 contract vehicle and better streamline the program's requirements (Defense Daily, Nov. 5 2018). 
"DEOS demonstrates our shared commitment to maximizing the buying power of the entire federal government," GSA Administrator Emily Murphy said in a statement. "It will bring cost savings and help DoD easily share mission-critical information across all military services while enhancing cyber security and reducing costs. GSA is proud that DoD chose to partner with us on IT modernization and leverage the GSA Schedules."
The 10-year blanket purchase agreement includes a five-year base period, a pair of two-year options and a final one-year option.
GD completed its $9.7 billion acquisition of CSRA last April (Defense Daily, April 3 2018).