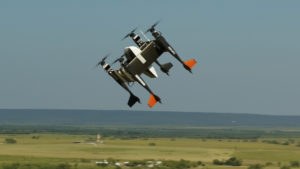 FORT WORTH, Texas — Out at Wrangler Field, an old Army airstrip far from dense populations and controlled airspace, Bell [TXT]and Japanese logistics company Yamato on Monday demonstrated to journalists the capabilities of their joint project announced last year: the Autonomous Pod Transport system, or APT.
APT is a tail-sitting, all-electric vertical takeoff and landing (VTOL) autonomous aircraft, capable of being scaled up or down to handle different size payloads and fulfill different mission sets. Currently, Bell is using APT-20 — named according to the payload it can carry — as a smaller testing vehicle for its main project, the APT-70.
On Monday, before the media, the 315-pound aircraft demonstrated a preset flight path. It took off in a controlled fashion, reached a height of about 175 feet, and then transitioned to forward flight to zip around predefined waypoints like a horse on a racetrack. Its max speed exceeds 100 mph and it can carry a 70-pound payload up to 35 miles, depending on how much time is spent in 'hover' configuration, which uses more than double the energy as forward flight mode, according to the company.
While its four rotors create some acoustic disturbance during takeoff and landing, APT is fairly quiet during forward flight — to be expected of a VTOL aircraft using distributed electric propulsion and tiltrotor technology championed by Bell.
The design of APT is driven by flexibility. Bell's Scott Drennan, vice president of innovation, is fond of saying "everything in between the rotors is the customer's space." The payload — a detachable pod designed by Yamato to be easily transferrable to ground vehicles — can be reshaped and modified to fit customer mission requirements. If its contents need to be kept in a steady configuration, the pod can even be placed on a gimbal, Drennan said.
The APT family of vehicles were initially under development as a commercial logistics solution, but Bell sees significant military applications for them as well, with interest expressed by the U.S. Army, Marine Corps and Navy, according to Todd Worden, manager for advanced UAS sales and strategy at Bell.
"The Marine Corps [Logistics Command] was working on an unmanned logistics program … we got in contact with them, and they were interested in what Bell was doing," Worden said. "They kind of encouraged us to move out and offer up solutions."
Last summer, Bell responded to a request for information (RFI) put out by the Marine Corps for an unmanned logistics solution, and earlier this year the company participated in an industry day for Joint Tactical Autonomous Aerial Resupply Systems, according to Worden.
The focus is on development of a UAS to meet Pentagon requirements of a 1,320 pounds maximum takeoff weight. APT-70 fits into that category, but Drennan said the Bell team is considering a larger size that would carry a 300-500 pound-payload — or even an "APT-XL" with an 880-pound max payload. The APT design would allow for these aircraft to be hybrid if needed, but according to Drennan, most customer use cases explored so far don't require more range or power than available through fully electric propulsion.
"As we understand it, the Marines and the Army are working collaboratively on this solution," Worden added. "With the APT family of systems, starting with the APT-70, it's a scalable product; I think we're able to offer the military a solution that will help enable them to do the operations for assured resupply or autonomous resupply that they need to do."
Through the RFI process, Bell has provided the military with options regarding charging the eVTOL aircraft, including various charge rates as well as hot-swapping batteries.
Bell intends the autonomous APTs to be overseen by operators who are more like monitors, receiving real-time information from the vehicles and able to take action, if necessary.
"We'd send them them critical health signals about the vehicle: how much voltage is left in the battery, what are the state temperatures of the motors, is it on its way to its proper destination," Drennan said. "If something were going wrong and it needed to land, maybe a 'land immediately' signal could come, or a redirection in the navigational track of the vehicle."
Bell anticipates APT will be ready to enter service in the "early-2020s," but it's unclear whether the regulatory and air traffic control structures that permit it to fly in controlled airspace will match that pace. Early next summer, Bell's APT-70 will participate — along with two other unmanned vehicles — in flight tests associated with NASA's Systems Integration and Operationalization (SIO) project, which aims to simulate the commercial operation of large unmanned aircraft.
"The significance of the NASA test is about flying through complex airspace, we are going to fly through Class B airspace in the [Dallas-Fort Worth] metroplex with a 315-pound vehicle," Drennan said. "That's a vehicle that is operational, usable, is of real size and can help real customers. We'll be doing that with a detect-and-avoid system and beyond visual line of sight rules."