Construction of the first new Constellation-class guided missile frigate, FFG-62, is set to start later this year, the Navy's program manager said last week.
Shipbuilder Fincantieri Marinette Marine plans to start lead ship fabrication in late summer or early fall 2021, after it completes detail design which covers the critical design review and production readiness review, Capt. Kevin Smith, program manager of the Constellation-class frigate (PMS 515), said during the virtual Surface Navy Association symposium on Jan. 12.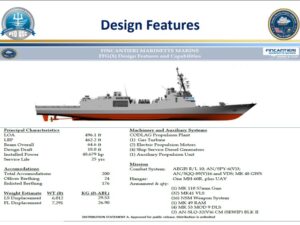 "After we awarded the contract in April, we got going on functional design, the detailed design with Fincantieri…we had an initial delivery of the build specifications that were worked in during the conceptual design phase. Those are still being refined as we get ready for a critical design review later this fall," Smith said.
Smith outlined the design features include accommodations for 200 sailors, displacement of almost 7,300 tons fully loaded, the Aegis Baseline 10 combat system, a version of the SPY-6 radar installed on Flight III Arleigh Burke-class destroyers, a 32-cell Lockheed Martin [LMT] MK 41 Vertical Launch System, 15 Raytheon Technologies [RTX] Naval Strike Missile anti-ship weapons, one MK 49 Rolling Airframe Missile (RAM) surface-to-air missile, two Lockheed Martin AN-SLQ-32(V)6 Surface Electronic Warfare Improvement Program (SEWIP) Block II devices, and one MK 110 57 mm gun.
He noted the ship will have room to grow over the lifetime of the class, a priority in new surface vessels.
"We have ample margin for this hull form. We also have in our requirements – space, weight, power and cooling margin to accommodate upgrades down the road over the service life of the ship. Some of those could lead to direct energy type projects and other capabilities."
The Navy awarded Fincantieri a $795 million contract to start building the new frigates last April, with options that could raise it to $5.6 billion if all 10 planned initial frigates are ordered. The ship design is based on the multi-mission FREMM frigate used by the French and Italian navies (Defense Daily, April 30).
Smith said the Navy estimates the first Constellation-class frigate will cost about $1.28 billion, divided into $795 million for the hull and the remaining $485 million for government-furnished equipment. The Navy expects follow-on vessels to cost $800 to $950 million each.
The first frigate, the future USS Constellation (FFG-62), is expected to be finished in fiscal year 2026.
Smith said under the Navy's current cost estimates, follow-on hulls are about $781 million per ship.
The Navy estimates the first 10 frigates will cost about $8.7 billion in FY 2020 dollars. However, an October Congressional Budget Office (CBO) report disagreed, arguing it could reach $1.2 billion per ship at a total of $12.3 billion for all 10 (Defense Daily, Oct. 14, 2020).
CBO argued its analysis is partially based on an independent weight-based model while if the Navy estimate is correct the FFG-62 "would be the least expensive surface combatant program of the past 50 years" by cost per thousand tons of an empty ship.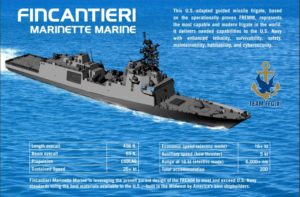 In a presentation at the symposium, Smith also noted Fincantieri Marinette Marine's team is in the process of making major upgrades and expansion as part of a capital improvement process to support building the new frigates. This includes a preparation and blast paint facility, module/grand module construction facility, and final gull erection and outfitting facility in Marinette, Wis.
The Navy originally planned to procure up to 20 frigates total, but in recent months Navy and Defense Department documents planned for more in the longer term.
In October, former Secretary of the Navy Kenneth Braithwaite said the Navy expects to build more than the previously planned 20 ships (Defense Daily, Oct. 29, 2020).
The 30-year shipbuilding plan released in December said the Navy plans to add a second shipyard to build more frigates faster and reach 66 small surface combatants, which consist of Littoral Combat Ships and frigates, by FY 2045. Previously, the Navy planned about 52 total small surface combatants made of LCSs and frigates (Defense Daily, Dec. 10).