The Navy awarded Kratos [KTOS] a $15.5 million contract on Dec. 30 to procure two XQ-58A Valkyrie stealth unmanned aerial systems (UASs) following years of Air Force testing.
The cost-plus-fixed-fee contract for the two vehicles includes "sensor and weapon system payloads to accomplish the penetrating affordable autonomous collaborative killer – portfolio objectives," the contract notice said.
This also includes technical services, non-recurring engineering, system/subsystem integration, installation, testing, ground and flight operations, logistics, and maintenance for the UAS.
The award covers government-owned, contractor-operated operations for flight test and demonstration events at government test ranges.
Work will occur in Sacramento, Calif., and is expected to be finished by September 2023. The contract was not competitively procured.
This contract comes as the Navy is developing its sixth-generation Next Generation Air Dominance (NGAD) program. Officials have said it will include a family of manned and unmanned systems working together in a manned-unmanned teaming (MUM-T) concept, with the manned aircraft called F/A-XX.
The F/A-XX is due to start replacing the F/A-18E/F Super Hornets in the 2030s, as they start to reach the end of their service lives. The Navy has released even fewer details about specific unmanned aircraft in the concept.
Navy officials have generally provided few details about NGAD development and kept the specific budget levels classified since the FY '20 budget request. That year the Navy requested $20.7 million and projected spending $256 million in FY '22.
When the Navy released its FY '23 budget request, Rear Adm. John Gumbleton, Deputy Assistant Secretary of the Navy for Budget, told reporters NGAD funding was increasing "somewhat dramatically" over the next five years, but did not disclose any values (Defense Daily, March 28).
In an April 2022 statement to the House Armed Services Committee, Navy officials said F/A-XX will be the 'quarterback' of the MUM-T concept and the service started concept refinement in FY '21 and that it remains on schedule (Defense Daily, May 3, 2022).
The Air Force Research Laboratory (AFRL) has been testing the Valkyrie as an example of what drones in its Skyborg Vanguard program could look like since 2020 and for experiments related to the Air Force version on NGAD. Skyborg aims to develop ways to use artificial intelligence to control low-cost aircraft in contested airspace.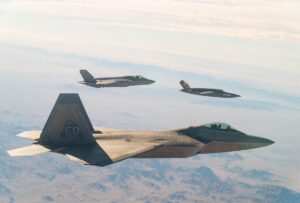 AFRL developing this long-range high subsonic UAS with Kratos under its Low Cost Attritable Aircraft Technology portfolio.
"This low-maintenance, reusable vehicle is an example of an "attritable" aircraft designed to be used for several missions but built at a cost that permits it to be a combat loss. This long-range aircraft is designed for high speeds and agile maneuverability, enabling it to perform a variety of missions. It is runway-independent, offering maximum operational flexibility to the warfighter," AFRL said in a webpage dedicated to the program.
In 2021, the AFRL conducted the sixth flight test of the XQ-58A in a demonstration that included launching an Area-I ALTIUS-600 small unmanned aircraft system (SUAS) from the Valkyrie's internal weapons bay in the first opening of the drone's weapons bay (Defense Daily, April 5, 2021).
Then, in November, Kratos said it recently flew a production Valkyrie at the Yuma Proving Ground for the Block 2 maturation program (Defense Daily, Nov. 3).
Similarly to the outlines of the Navy NGAD program, Air Force Secretary Frank Kendall has talked about using one to five Collaborative Combat Aircraft for each managed aircraft in the Air Force version of NGAD.