The top Navy officials this week argued another reason to retire and divest from the Ticonderoga-class cruisers is they are unsafe for the sailors in addition to costly maintenance and repair issues.
Over the past year, Navy officials have highlighted the costs of maintaining the decades-old cruisers as they seek to have Congress allow them to be retired.
Last month, Chief of Naval Operations Adm. Mike Gilday said cruiser upgrades have cost tens of millions of dollars over budget and thousands of delay days from maintenance yards because of new work added given the age of the ships (Defense Daily, Feb. 23).
The FY '22 budget requested funds to retire two cruisers on top of previous plans to retire five vessels so the money could be spent elsewhere (Defense Daily, May 28, 2021).
Speaking during the McAleese and Associated annual defense program conference on Wednesday, Secretary of the Navy Carlos Del Toro said the choices the service has to make are influenced by decisions 20 years ago to invest in certain classes of platforms.
Del Toro said he would love to keep the Ticonderoga-class around for another 20 years but said there is a real challenge in repairing ships of that age.
"Any sailor who's served on one of those ships…when I served on my cruiser she was already 30 yrs old and when you start diving in to those fuel tanks, when you start diving into those bilges and I walked those bilges, I crawled through those bilges – you get to truly understand the challenge of having to repair ships of that age," he said.
Del Toro said also the pace at which the Navy has been using the platforms has incurred a level of wear and tear that is significant.
"The safety of our people in the United States Navy always has to come first in times of peace, without question. So it would be irresponsible to continue to operate some of those platforms today, at great risk to personnel safety in the Navy."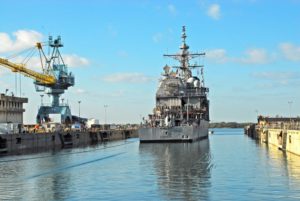 He added there are arguments to fix the cruisers, but "if you try to repair those ships at a cost that far exceeds the investment to go buy something else that's new, why would you do that?"
The Navy Secretary compared it to driving a car for 20 years and getting to the point where every time you take the vehicle to the mechanic, it costs $1,000 to keep it running and it does not have the new fancy "gadgets and gizmos" as current cars.
"At some point you've got to let it go, you just got to let it go and you got to go buy that other new car that makes the most sense."
Many in Congress have pushed back on the cruiser retirement effort this past year. A good example is last June when House Armed Services Seapower Subcommittee Ranking Member Rob Wittman (R-Va.) argued if all seven requested cruisers are retired, that equals 910 Vertical Launch System (VLS) cells, more capacity than the entire British Royal Navy (Defense Daily, June 17, 2021).
Ultimately, the final version of the FY '22 defense authorization bill allowed the Navy to retire just up to five cruisers total (Defense Daily, Dec. 8, 2021).
Speaking following Del Toro on Wednesday, Gilday reiterated the Navy is spending tens of millions of dollars more than the service expected because of growth work and new work on ships beyond their service life, approaching an average of 35 years old.
"If we want to talk about delay days out of shipyards, when I took over the job we had about 7,700 delay days out of private yards. Down now to between 2,700 and 3,000 delays days. Of those delay days, 1,200 belong to four ships – three of those ships are cruisers. They're eating us alive in terms of our ability to get maintenance back on track, which is where we need to be…to keep ships out on point."
The CNO underscored the cruiser's reliability issues with three examples. One ship had stop its deployment for voyage repairs because it was taking on water below the water line into a berthing compartment, another had to stop for voyage repairs with water going in below the water line into a main engine room, and a third had to return to its homeport from deployment twice due to leaking fuel tanks.
Gilday also sought to address the argument that cruisers are needed for modern warfighting needs, notably the VLS cells. He argued the ships' radars are no longer good enough for future competition.
"You have to see the threat to knock it down and so SPY-1A, SPY-1B radars – they're just not sufficient given the threat that we're facing," the CNO said.
He said given cruisers are not helping the future force he wants to take that money and reinvest it in more lethality.
Gilday said the idea of divest to reinvest does not really mean retiring a currently working ship for automatically generating new ships given the service's priorities and flat budget.
"We're not going to have a Navy we can't sustain and the second thing is that that money that we get back is being reinvested into readiness, modernization and capacity in that order. If we don't, if capacity becomes king again in a static budget environment, we're going to go back where we were in 2013 and we're going to pay for that capacity with manpower at sea, with weapons and magazines and with respect to readiness and maintenance. And so, I just won't go back there."