The head of Naval Air Systems Command (NAVAIR) this week explained how the Navy has increased mission capable rates of F/A-18E/F Super Hornets and said the same initiatives are being extended to other aircraft.
The Navy has been able to increase mission capable rates for Super Hornets by 14 percent since the effort started in October 2018, translating into 330 additional mission capable aircraft for crews to work and train in. This effort had two main components to its success, according to the NAVAIR commander.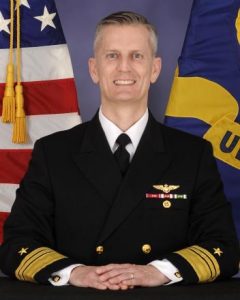 "The first is establishing and supporting alignment that's required. The air boss at the time, [former commander of NAVAIR Vice Adm. DeWolfe Miller III], his requirement was 341 Super Hornets. So unless you have 341 Super Hornets, then it doesn't matter what your supply metrics are, doesn't matter what your engineering metrics are, it doesn't matter what your depot metrics are. Those cannot be green as long as there are less than 341 Super Hornets," Vice Adm. Dean Peters said during a May 24 webinar preview event ahead of the upcoming 2021 Sea-Air-Space Exposition.
The head of NAVAIR is also known as the Navy air boss.
"So establishing that alignment was the first step. We also elevated the role of the program managers to be the quarterbacks of this sustainment effort. So that's something that we had not done in the past and our Program Executive Officers are also stepping up to be the sustainment leads for those platforms that are under their purview," he added.
Peters said the second part of the success was using commercial best practices, which he said must continue.
"For the last 20 years we missed out on all of the improvements that were going on in commercial aviation. We were busy, we were in the Middle East, you know there were operational considerations," he said, alluding to the wars in Afghanistan and Iraq.
"Now we've had the chance to incorporate some of these associated with how we do maintenance. It's all about the workflow, the work content and velocity," Peters continued.
He also underscored NAVAIR established a reliability control board that identifies improvements in reliability and in the maintenance plan which is continually revised.
"What we need going forward is just to continue to prioritize. If we can do that, then we will not only sustain readiness levels that we have achieved, but we will also continue to make incremental improvements. We'll continue to improve lethality and survivability in addition to just basic mission capability," Peters said.
When asked how this work will help with other naval aviation assets, the air boss said it will replicate the current Super Hornet playbooks.
"It was never meant to be just for Super Hornets. The plan all along was that we made these improvements for Super Hornet, we were going to replicate those across all of our aircraft, so that's every shop within every depot – all of our intermediate level maintenance sites and all of our organizational-level sites, so at the squadron level. And the way this is done really is by developing those playbooks that are associated with how the transformation occurs," Peters said.
Peters noted that now NAVAIR has a reliability control board for every platform across naval aviation.
"We established a maintenance operations center at Norfolk for the Super Hornet. That was one of the key elements of the readiness recovery for Super Hornet – was being able to manage all of the maintenance and all of the resources that go into the Super Hornet enterprise."
The Navy is now establishing the same effort for EA-18G Growlers, P-8A Poseidon maritime patrol reconnaissance aircraft, H-60 Seahawk helicopters, and the V-22 Osprey tiltrotor aircraft.
Peters said there are several tools that go into the effort, "but the most important aspect of this is just the communications from a central location that allows you to coordinate resources, whether it's engineering resources, whether it's parts, whether it's getting depot artisans out to fix our highest priorities – that coordination was really key. So that's being extended across all of our platforms."
Peters named an example of how to get the squadron level to use an organizational level playbook associated with philosophy of maintenance: a planned 84-day inspection to look for and clean up any corrosion and get the aircraft ready for use again.
He said the inspection time in each aircraft is supposed to take three days, but NAVAIR found they actually took seven to 10 days "because a squadron has different priorities throughout the day. They're trying to get the flight schedule done, maybe they have to do an aircraft transfer."
Whenever these other priorities interrupt the inspection, it results in unscheduled work that makes it harder to close out the corrosion inspection effort.
"So just focusing on philosophy – something that's as simple as that," to just finish the inspection before starting on other issues even as other priorities come up, he said.

NAVAIR is now replicating that work and perspective across all of the aircraft platforms.
"It's not just doing that work in a more consistent manner, it's really looking at the work that was being done."
Peters also noted as opposed to old challenges like finishing corrosion inspections on time, the Navy is also working through new challenges related to using data optimally.
"It's getting the data that's needed to inform the workflow, to inform the work content and we are continuing to go after that data both from any organic sources and any commercial repair sources that we have…we can make more informed decisions about the maintenance program. All of that is being replicated across naval aviation."
In 2019, the Navy said the operational Super Hornet and Growler fleets achieved an 80 percent mission-capable readiness mandated by former Secretary of Defense James Mattis in fall 2018. The push came after mission capable rates were found to stand near 50 percent. The aircraft counted under this measure were those in the Primary Mission Aircraft Inventory, which are aircraft making up the nine carrier air wings that deploy, not counting training squadrons and test aircraft (Defense Daily, Sept. 25, 2019).
Last year, the Government Accountability Office released a report finding only three out of 24 aircraft across all military branches met annual mission capable goals the majority of the time in an analysis lasting from fiscal years 2011 to 2019 (Defense Daily, Nov. 20, 2020).