The Missile Defense Agency (MDA) is initiating a new sea-based hypersonic missile terminal defense project and expects to award a contract for concept definition by the second quarter of fiscal year 2021.
MDA issued a "special topic" broad agency announcement (BAA) on Sept. 28 to provide for the competitive selection of basic and applies research, with part of development not related to a specific system or hardware procurement.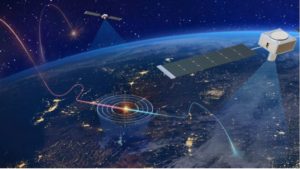 The agency said the BAA is specifically seeking missile defense system concepts "to maintain a robust layered defense strategy with a multi-mission, terminal phase interceptor that complements all other midcourse weapons and defeats future hypersonic threats."
The announcement quoted MDA Director Vice Adm. Jon Hill from August 2019 in his director's vision and intent document. Therein, he noted the FY '17 defense authorization act assigned MDA the responsibility to be the executive agent for the development of capabilities to counter hypersonic glide vehicles and conventional prompt strike weapons. Therefore, Hill said the MDA mission was evolving to address these additional missile threats.
"The missile defense architecture must evolve to give the Warfighter the ability to counter these threats…as the threat evolves and includes new offensive systems such as hypersonic glide vehicles, the nation will need to increase investments in cutting-edge missile defense technologies. If we are to support the Warfighter in a highly uncertain strategic environment, we must meet technology maturation, systems development, and manufacturing challenges head-on and continue to demonstrate missile defense capabilities," Hill said.
The BAA will remain open through Nov. 13 and white papers from interested parties may be submitted in this period. MDA said it may issue a Requests For Proposals up to six months after the closing date, May 2021, only for white papers submitted during the open period.
The agency is requesting white papers from U.S. industry, accredited college and universities, and nonprofit organizations. Offerors are directed to fully describe weapon system concepts, component maturity, missile defense system integration approach, estimated achievable performance, and technologies requiring risk reduction. Offerors should also provide schedule and costs for technology risk reduction and product development.
MDA expects to award multiple contracts under this BAA and anticipates a timeline of white papers submitted through November, award decision Dec. 8, and contract award for concept definition phase in the second quarter of FY '21.
The agency expects the concept definition phase to last no more than 12 months while awards from this announcement will not exceed $5 million.
BAA documents describe the announcement as limited to special topic areas of missile defense to "maintain a robust layered defense strategy with a multi-mission terminal phase interceptor that complements all other midcourse weapons."
However, MDA is also investigating a broader trade space for "innovative concepts that can provide affordable, reliable, high capacity, robust capability versus future threats."
The BAA explained interested offeror's program description should describe their plan to define and assess multi-mission terminal phase interceptor concepts to defeat future hypersonic threats defined in a classified annex.
"It shall also describe the offeror's capability to execute this plan and produce results including demonstrated capability to design, develop, test, and produce related weapon systems. Describe initial interceptor concepts and the concept trade space that will be explored with supporting technology maturation plan," the announcement said.
MDA said if the concept meets proposed threshold requirements it will provide additional consideration if it includes robust terminal homing performance via multi-mode seeker, missile sizing that accommodates multiple pack in the Mk 41 Vertical launch System, flexible warhead design that considers sub-munition concepts, use of certified components where possible, missile-to-missile communications, and substantial structural margin accommodating more maneuverability.
This award comes nearly two months after MDA paused its hypersonic missile defense prototype effort to split its focus into separate near-term options ready by the mid-2020s and longer-term solutions (Defense Daily, Aug. 5).
In January, MDA issued a draft Request for Proposals to begin discussions with industry on requirements for a Hypersonic Defense Regional Glide Phase Weapon System.
In July, the Government Accountability Office warned MDA faces many technical challenges in developing counter-hypersonic defenses and sensors. It said MDA officials said fully achieving the capability will require developing entirely new interceptor systems, supporting technologies, and sensor architecture (Defense Daily, July 24).