A new Government Accountability Office (GAO) report underscored the technical challenges the Missile Defense Agency (MDA) will have in developing counter-hypersonic weapon defenses and sensors, noting DoD personnel have raised concerns.
The GAO's annual report on the U.S. missile defense system noted MDA officials said fully achieving the counter-hypersonic capability will require developing entirely new intercept systems, supporting technologies, and sensor architecture including new space-based sensors.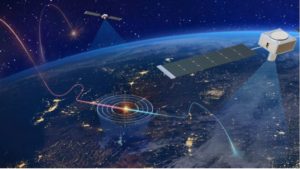 MDA officials told GAO the new interceptor "will need to operate in a hypersonic flight profile and outperform the main characteristics of adversaries' hypersonic capabilities, such as speed and maneuverability."
However, the report said both Cost Assessment and Program Evaluation (CAPE) and DoD officials "have expressed concerns that simply building a weapon capable of operating in a hypersonic flight profile pushes multiple scientific boundaries, especially in the survivability of materials during exposure to extreme g-forces and high temperatures."
"Thus, building a weapon that outperforms existing or potential hypersonic weapons by significant margins will be difficult," GAO added.
GAO recounted MDA awarded 21 contracts to develop a variety of concepts for systems capable of intercepting hypersonic weapons in September 2018. Then, in August and September 2019, MDA awarded five contracts for "further study and refinement" based on the contractor proposals.
GAO also pointed out new sensor system challenges. MDA plans to develop specialized space-based sensors via its Hypersonic and Ballistic Tracking Space Sensor (HBTSS) program. Officials plan to use space sensors rather than existing ground-based sensors because of the gap in detection and tracking coverage since most ground-based sensors track flights at much higher latitudes than hypersonic interceptors.
However, GAO noted new space-based sensors will require developing improved image processing algorithms to distinguish the missiles from the irregular warm Earth surface. In comparison, ground-based sensors compare ballistic missiles to the cold and featureless space background.
MDA will also have the challenge of the plan to deploy HBTSS on a network of small low-earth orbit satellites compared to the traditional approach of a few larger satellites in more distant orbits.
MDA officials told GAO the plan leverages advances in the commercial space and satellite sector, but they will have to work with the newly created Space Development Agency (SDA).
"MDA and SDA are still defining the division of responsibilities, budget, and the overall working relationship. SDA has articulated a unified, next-generation space architecture to meet DoD's needs, consisting of six distinct satellite constellations, of which HBTSS would be one," the report said.
Both MDA and SDA officials said the sensor systems will need a high amount of interoperability and close coordination to be most effective.
Last year, MDA awarded Northrop Grumman [NOC], Leidos [LDOS], L3Harris Technologies [LHX], and Raytheon [ RTN] each $20 million awards to develop prototype payload sensor designs for HBTSS. The designs are due by October (Defense Daily, Nov. 1, 2019).
In March, lawmakers expressed concern that DoD moved funds for HBTSS from MDA to SDA at the recommendation of former Under Secretary of Defense for Research and Engineering Michael Griffin (Defense Daily, March 16).
MDA Director Vice Adm. Jon Hill told the House Armed Services Strategic Forces subcommittee at the time the plan under the FY '21 budget request is for SDA to provide funding back to MDA to develop the HBTSS sensors, which will then be given to SDA for the larger space architecture.
In previous years, Griffin outlined the only good way to reliably track hypersonic weapons is from space, but since they are a factor of 10 times dimmer than strategic ballistic missiles they cannot be monitored from a higher orbit (Defense Daily, Aug. 8, 2018).
GAO also outlined the likely "considerable financial commitments" by MDA to develop hypersonic defenses given the technical challenges.
The report noted previous MDA attempts to quickly develop and field capabilities that were costly and unsuccessful because they proceeded without a sound acquisition approach.
"The soundness and discipline of MDA's approach for these efforts, in terms of maturing technologies, promoting competition, and ensuring departmental buy-in, will ultimately determine their success and associated costs," GAO said.
The report said MDA is still determining its acquisition approach for new efforts like counter-hypersonic defense. Although the agency has not released a formal cost estimate, its fiscal year 2021 budget request showed it planned to spend $659 million through FY '25 on development and demonstrations to defeat hypersonic targets.
Yet, GAO said these initial cost estimates and plans are only for a portion of the overall effort, with the total program possibly costing "considerably more."