The Defense Department selected Ball Aerospace to develop a new prototype communications antenna for the three Zumwalt-class DDG-1000 destroyers, the company said Tuesday.
This award is for a new multi-band, low-observable satellite communications antenna. Ball was chosen by the Pentagon's emerging technologies office, the Defense Innovation Unit (DIU).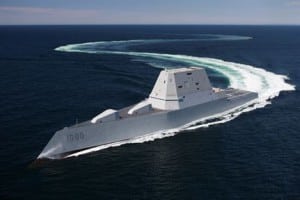 The Ball selection is part of DIU's Multi-Domain Tactical Communication (MDTC) program. Within this program, Ball is expected to develop the antenna architecture, beamforming approach and prototype.
DIU first posted a solicitation for a "low-observable SATCOM antenna system that can support multiple links in the S-, C-, X-, Ku-, K-, Ka- and Q-band signals" to integrate onto DDG-100 class ships in October 2019.
The solicitation said the system should be flexible so that similar designs can be incorporated into other uses like other ships or ground stations. DIU's desired output is a design study followed by a prototype delivered within 12 months of the award for demonstration.
The company said it will leverage its portfolio of electronically steerable phased array antenna technologies and stealth technologies to design a solution that will meet existing signature requirements, integration on the Zumwalt class, and can operate over multiple frequency bands.
"We are pleased to partner with DIU and the U.S. Navy to explore ways to quickly and cost-effectively increase the capabilities of the DDG-1000. Our multi-band, multi-beam phased array heritage and conformal antenna expertise directly supports the warfighter by addressing emerging threats and taking on new missions," Jake Sauer, vice president and general manager, Tactical Solutions, Ball Aerospace, said in a statement.
The Navy finally accepted final delivery of the first ship in the class, the USS Zumwalt (DDG-1000), in April (Defense Daily, April 24).
That was a milestone in the dual delivery approach to the class, which achieved a Hull, Mechanical and Electrical delivery in 2016 followed by combat systems activation, testing and trials in San Diego. The ship is currently undergoing developmental and integrated at-sea testing.