The Navy's top acquisition official this week said the Navy and Marine Corps are seriously considering using the Naval Strike Missile (NSM) as a Marine Corps shore-based anti-ship battery.
"Just yesterday we had the team in that does the Naval Strike Missile on LCS (Littoral Combat Ship) working directly hand-in-hand with the Marine Corps. The Marine Corps does ground launchers, we do command and control on the Navy – make that immediately available to the Marine Corps, Marine Corps has ground fires from other programs they can bring in," Assistant Secretary of the Navy for Research, Development and Acquisition James Geurts told reporters Wednesday at the annual Surface Navy Association annual symposium.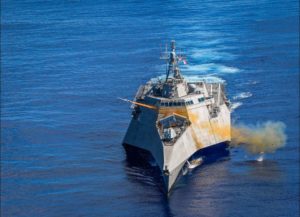 Geurts said this is an example of the Navy-Marine Corps team looking at strategies to better integrate and meet the National Defense Strategy goals. "So it's not just platforms but how can we leverage the strength for the collective good."
Geurts said having the Marine Corps use the NSM as a shore-based battery is "certainly something we're looking at closely."
Last May, prime contractor Raytheon [RTN] announced it won a $47.6 million Other Transaction Authority contract for the Marine Corps to integrate NSM but did not disclose a platform at the time (Defense Daily, May 9, 2019).
NSM is a long-range missile that can destroy both sea and land targets. The Navy is using the NSM as its Over-The-Horizon capability on the LCS and FFG(X) future frigates.
In May, Raytheon noted a mobile land-based NSM is deployed with Poland's coastal defense force. Meanwhile, in recent years the Marine Corps has started testing launching rockets from a High Mobility Rocket Artillery System (HIMARS) on the deck of the USS Anchorage (LPD-23) amphibious transport dock (Defense Daily, Oct. 25, 2017).
Geurts added the Navy is seriously looking at this Marine Corps NSM use among other integrated activities.
"So what I don't want is just because it's the Marine Corps or Navy we aren't figuring out how to be opportunistic and leverage either or. So it can be 'Hey, if we're going to test this for a Marine concept, they will give me more test data, that will inherently help our LCS integration and get the missile there."
"It's really kind of breaking down these silos," Geurts added.
While the Marine Corps is not currently fielding a capability like this, Geurts said it is in line with recent leadership statements.
"You heard the [Marine Corps] commandant and the previous commandant talk a lot about Marine Corps lethal anti-ship activity."
The NSM was originally developed by Norway's Kongsberg, which is working with Raytheon to produce and integrate the missile for U.S. assets.