The Navy is studying how to backfit older Arleigh Burke-class DDG-51 Flight IIA destroyers with a variant of the new AN/SPY-6 radar, officials said Wednesday.
"We're working hard – it's in the budget for the start of [FY] '21, that we'll work toward a backfit solution for Flight II Alphas. But working through the time phase and which ships and all those kinds of things with OPNAV and working through what the right answer is," Capt. Seth Miller, DDG-51 class program manager, said during the annual Surface Navy Association symposium.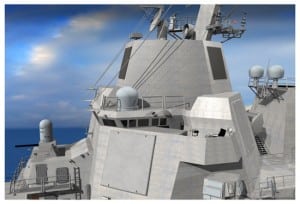 He said the Navy is currently looking at what is the right fit for how to upgrade the radars to the SPY-6 along with the baseline 10 Aegis Combat System.
Raytheon's [RTN] SPY-6 Air and Missile Defense Radar (AMDR) and the Lockheed Martin [LMT] Aegis Baseline 10 were developed, in part, to be installed on new DDG-51 Flight III ships to significantly increase their missile defense and overall sensing abilities. The Flight III destroyers will be bigger to accommodate the space, weight, power, and cooling requirements of the more advanced radar.
Navy officials did not disclose how much smaller the SPY-6 would be on older destroyers, which currently field the legacy Lockheed Martin AN/SPY-1D(V), The service is currently upgrading Flight IIA destroyers to Aegis Baseline 9 to better use the information gathered by the older SPY-1 radars.
Miller clarified that "nothing is signed yet…nothing committed to contracts or to a ship yet, so we're working through what happens over the next couple of years."
However, Miller said the Navy is targeting to install the upgrades during the destroyers' normal hull, mechanical, and electrical (HM&E) mid-life modernization period.
"That's what we're targeting, but that's the question – is when and how."
Miller also said the Navy has not decided how many Flight IIA destroyers will end up getting the upgrade.
The service also provided the current timeline for work on the first Flight III DDG-51 being built, the future USS Jack H. Lucas (DDG-125).
DDG-125 is currently 24 percent complete and had a keel laying ceremony in November. Next, a float off will take place in July 2021. Integration of Aegis Baseline 10 is on track for a January 2022 light off, delivery is planned for April 2023, and initial operational capability (IOC) is set for 2024.
The Navy said the first SPY-6 arrays are scheduled to arrive at shipbuilder Huntington Ingalls Industries' [HII] Ingalls Shipbuilding shipyard in Pascagoula, Miss., in June 2020.