The Marine Corps is looking for more "open, honest dialogue with industry," especially as officials look to get after large numbers of new light, expeditionary capabilities that will allow forces to remain effective in persistent engagement zones.
Lt. Gen. Eric Smith, the deputy commandant for combat development and integration, told attendees at this week's Modern Day Marine conference industry should look to the force's new planning guide as the blueprint for future procurement priorities, while calling for industry to provide more feedback on programs to better refine requirements.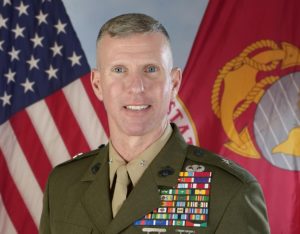 "If you haven't read the commandant's planning guide you really need to. If you're in industry and your folks have not read the planning guidance, you have the wrong folks working for you," Smith said. "It tells you where we're going. It could not be clearer."
Gen. David Berger, the Marines' new commandant, released his planning guide over the summer that refocused efforts to go after new capabilities, such as autonomous tools and long-range precision fires, geared for a future fight, and suggested moving away from the long-held requirement for a fleet of 38 amphibious ships (Defense Daily, July 26). 
Smith said the Marine Corps is specifically looking for lighter weapons capabilities that can be purchased in large volumes, specifically tools that are "more affordable over exquisite."
"It's not an existential threat to eat the lesser stuff for a couple years until the budget gets better. So we need to have the dialogue with you, as we're starting to ask if that's affordable," Smith said.
Berger has designated Smith's office the one agency authorized to discuss force development with industry. 
"That back and forth with industry is absolutely vital. I'm open to industry. I'll give you my ideas. You might not like all that I have to say, but I'll always be honest with you," Smith said. "So light, lethal, because lethality always matters, and it has to be affordable because the budget is finite."