NATIONAL HARBOR, Md. – The nascent Space Development Agency (SDA) wants to reach initial operating capability for several new space-based sensor layers within the next five years, the agency's acting director said Sept. 18.
The SDA has identified eight capabilities that are necessary to fight and win a war in space, and then conceptualized six space-based layers and one ground-based layer to be developed to enable those capabilities, Derek Tournear said in a media roundtable Wednesday at the Air Force Association's Air, Space and Cyber conference here. Former director Fred Kennedy laid out the eight capabilities needed in an April 9 speech at the annual Space Symposium conference.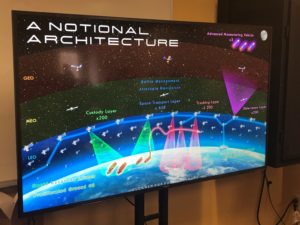 As the Defense Department continues to hone its plans to emphasize space warfighting capabilities with a recently re-established U.S. Space Command, a likely future Space Force and the new SDA, the agency plans to act as the orchestrator of the "development and fielding of the next-generation national defense space architecture," Tournear said. "We ultimately have the accountability for this proliferated architecture."
Tournear, who took over for Kennedy in June, said several of the new layers of systems that will enable those capabilities will be developed by the SDA, while others may be built with existing Air Force satellites and other service equipment. The layers include:
-A "backbone" data communications transport layer, that would be a mesh network of small systems connected in space cross-linked to provide communications, he said Wednesday. "The goal [is] that transport system will talk directly to weapon systems," he said, adding that the SDA will be responsible for building up this layer that will communicate with existing ground user equipment.
A demonstration is expected in fiscal year 2021, with field testing capability to occur in FY '22 and IOC expected two years later. "That will give people an opportunity to use that transport layer," Tournear said. The goal is to upgrade the layer's capabilities every two years, with the satellites themselves being replaced every five years.
-Three "sensing" layers, to include a tracking layer for advanced missile threat detection co-developed with the Missile Defense Agency; a custody layer that detects relatively large ground targets, and provides a targeting solution; and a space situational awareness layer for deterrence. The SDA plans to partner with the Air Force and other services to provide payloads for service-built satellites and integrate them into the sensing layers, Tournear said.
-An overall battle management layer encompassing the on-board processing hosted on the other layers' systems, which provides the autonomy and data fusion to transmit information. "We want to do as much as possible in space, so that we don't have latencies [involved with] going to ground," Tournear said. "Eventually, we would be able to operate without ground contact for a given period of time."
-A navigation layer that is also more of a processing layer that exists on data transportation satellites but that provides a navigational signal.
-A ground layer providing support for the space-based systems, developed in partnership with the Air Force.
Tournear was appointed to serve as acting SDA director in June, following the departure of the agency's inaugural director Fred Kennedy (Defense Daily, June 25). Kennedy returned to his previous role as DARPA's Tactical Technology Office director, and Tournear is serving in a dual-hat capacity retaining his prior position as the assistant director for space at the Office of the Undersecretary of Defense for Research and Engineering as well as acting SDA leader.
For the foreseeable future, the SDA will retain its headquarters at the Pentagon, with a few employees spread across the United States in strategic locations as the agency grows, Tournear said. Lawmakers from areas including New Mexico began to vie earlier this year for the agency to be based in their states or districts (Defense Daily, March 19).
Right now, the SDA has 27 employees and by next year, it will employ about 100 people with an eventual total of 200 people. "Our plan is to have external offices with … a half dozen people at various locations that are of importance to the space community," such as Los Angeles, Colorado Springs, Austin and Alabama.
The SDA currently resides under the Office of the Undersecretary of Defense for Research and Engineering, but Tournear confirmed plans remain in place for the SDA to eventually fold into the new Space Force, and become part of its acquisition arm, should Congress approve to stand up the new branch of the armed forces in the fiscal year 2020 National Defense Authorization Act (NDAA). Lawmakers began conference negotiations for the NDAA on Thursday.
"The reason that doesn't happen immediately is because right now where we sit … we have purview over all space entities within the department, so we can ensure that they all work together into a single coherent architecture … and that we can identify and correct all the gaps.," he said. "Eventually when the vast majority of all space technology and acquisitions are under the Space Force, we would go too."