GRANT, Ala. — Kord Technologies [KBR] has developed FireFly, its first fully self-contained high energy laser weapon, and is currently showcasing the capability it described as a more cost-effective solution that can help inform prospective customers on concepts of operation for laser systems.
The company is now also working with Elbit America's new multi-mission MATR-X radar for threat tracking capability, with Defense Daily recently seeing the two systems working in action ahead of a customer demo this week.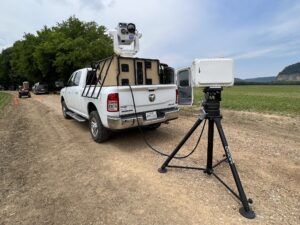 "We developed this system at Kord from the ground up. Kord really had no base laser capability when I joined about three years ago. That was our investment, our goal, to bring it to bear," Ben Allison, Kord's chief technology officer, said during the visit to Grant, Alabama last week. "This addresses really an urgent need in the counter-UAS space, for Group 1 and 2 [systems]. It meets a target price point that really needed to be addressed and provides you capabilities to really learn how these systems are deployable, usable and maintainable in the field, none of which is really known right now."
Allison said Kord began work on FireFly, which is capable of up to 20 kilowatts in laser power, about two years ago and has now deployed the system around 30 times to test ranges around the country for demonstrations.
"The Army clearly identified a need for a more lightweight, transportable ground laser weapon system in the 10-kilowatt range. We absolutely understand that requirement. We see the same type of pull from other customers in the DoD community," Allison told Defense Daily. "UAVs are literally flying bombs. They're flying threats. But they're very, very cheap. We see this in Ukraine right now. These thousand dollar drones are really affecting million dollar weapon systems. So, really, there's two things, how do you devise a system that counter the threat and how do you have a system that is cheap enough and robust enough to survive and be deployable."
Kord is currently working toward a target of providing its laser system at $100,000 a kilowatt, according to Allison, adding that generally such platforms may be offered at a million dollars a kilowatt.
While FireFly is Kord's first high-energy laser capability, the company has been the prime integrator on the Army's Directed Energy Maneuver Short-Range Air Defense (DE M-SHORAD) prototype program to field a Stryker-mounted 50-kilowatt laser system.
DE M-SHORAD, which includes Raytheon Technologies [RTX] providing the laser and beam director, is headed for a user assessment in early fiscal year 2024 and could potentially transition into a program of record and a competitive effort for production around FY '25 or '26 (Defense Daily, March 30).
Kord does have one government customer so far for FireFly. while Allison declined to name the entity, the company has provided one 10KW unit to date and will deliver a second system capable of 20KW within the next couple of months.
"We have another contract with a government customer [for FireFly], and I'll leave it at that because they're very sensitive about it. They believed in us enough that they bought a unit directly off of our [internal research and development] unit that we built. So that's been delivered to them," Allison said.
Allison said Kord also offered its FireFly architecture for the Army Multi-Purpose High Energy Laser (AMP-HEL) program, which aims to integrate a 20KW laser capability on Infantry Squad Vehicles, but was not selected for the prototyping effort.
"We believe we had a very viable solution. And to this day, we think it's a very viable solution. And it is absolutely in our roadmap and in our internal discussions to repackage…a FireFly unit into an AMP-HEL configuration or into a ground mobile demonstrator configuration so that the customer base and community can see it. We absolutely believe that a shoot-on-the-move or a shoot-on-the-pause capability is needed in all these systems. This system can do that, right now," Allison said.
The Army awarded BlueHalo a potential $75.9 million deal in April to provide its LOCUST laser weapon system for the initial AMP-HEL program (Defense Daily, April 11).
"What we really saw with AMP-HEL is almost a confirmation of what we expected, which is there is a desire for a 10 to 20-kilowatt class system that has a small enough footprint to fit into vehicles of that size. And I think we got great feedback from the Army on that in the sense of hearing that, yes, this is what they want. They clearly saw a solution there because they made an award. And we absolutely believe that we can play in that sphere going forward," Allison added.
The recent demo in Grant, Alabama featured a 10KW palletized version of FireFly on the back of a pickup truck in a bifurcated setup with Elbit America's MATR-X radar, with the latter providing targeting data. The laser was then employed and successfully took out the DJI Phantom 4 series target drones.
Kord and Elbit America first discussed bringing together FireFly and MATR-X while at the recent Fires Symposium at Fort Sill in Oklahoma.
"We met Elbit. They said they had a great radar. We said we need a great radar," Allison said. "Really what's required [with laser weapon systems] is you have to find the thing and then you have to defeat the thing. The finding is the hard part and what Elbit's bringing with the radar is essentially going to help us with the finding part."
Allison said MATR-X enhances FireFly's ability to find targets, to include managing how the system would deal with drone swarm threats.
"If you have a small drone, a Group 1 drone at any appreciable range…when that drone gets out beyond a couple hundred meters, you can't see it. It's almost impossible to see. And so, for these high energy laser systems to function, they need an accurate queue. And that's what Elbit's bringing with the MATR-X," Allison said. "Really, the threat going forward is not that one drone but it's that swarm of drones. So being able to have a threat list, essentially a queue list of all the targets, to be able to prioritize them…so that the operator, instead of actively trying to target and find these threats, is just essentially more of a manager."
Elbit America has described MATR-X as providing "significant improvements in revisit rates, dynamics waveforms and micro-Doppler artificial intelligence/machine learning classification on targets simultaneously in multiple domains," providing the ability to detect and track thousands of air and ground targets at the same time.
"There are resource limitations on most AESA radars. They reach a capacity on the number of tracks they can support simultaneously. And if it's at capacity, they are missing other devices or items of interest that might emerge. This radar is capable of far more tracks than we hope anybody ever sees. It's a theoretical limit, based on the GPU inside, of 10,000 simultaneous tracks," Mike Powell, Elbit America's director of business development for innovation solutions, told Defense Daily here in Alabama.
Powell said Elbit America began developing MATR-X in 2018 and has one industry customer it's working with as of right now, but he said could not specify the partner.
Both Allison and Powell said they expect to continue working the two systems together moving forward and have identified several more demo opportunities in the year ahead, with Kord viewing MATR-X as a kit capability that could be offered with FireFly.
"The expectation is that we're highly successful, the customer loves it, Elbit becomes a 'dash' option to the base FireFly if you want the kit capability," Allison said. "We're bifurcated in this set-up right now, but the intent at some point in the future is that radar, or multiple of those radars, will be integrated onto a fixed system."
Allison said Kord's decision to concentrate on the lower end of the power range with FireFly allows the company to move ahead on a system that isn't too expensive to build in large numbers, to help enable potential customers to work through concepts of operation that are applicable up through platforms operating at higher kilowatts.
"If you wanted to train soldiers, if you wanted to study tracking events and phenomenology of atmosphere or radar queuing, you could do all that at the 10 to 20-kilowatt level and gain all that lift that's applicable at the 50 to 200-kilowatt level without all that cost. That's an important point that we see," Allison said. "When we look at this architecture, every decision we make and every test we do is really to gain more information and understanding about that [operational] aspect of it. It's not about can a laser shoot something down at a specific range. I really do think that's been proven for many years. In general, we know we can put a beam out there and hit something. But can we do that in something that can survive in rain and survive bouncy roads…and can we do that at a cheap enough level and at a maintainable level so that it's of interest to people."