The Army has awarded BlueHalo a potential $75.9 million deal to provide a laser system for its program to integrate a 20-kilowatt laser capability on Infantry Squad Vehicles (ISV), the company said Tuesday.
BlueHalo said it will supply its LOCUST laser weapon system for the Army Multi-Purpose High Energy Laser (AMP-HEL) program, which aims to develop a counter-drone laser capability to help protect Infantry Brigade Combat Teams.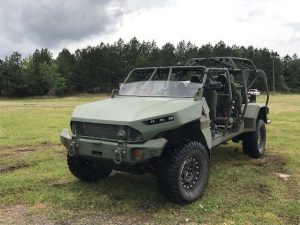 "The AMP-HEL system will deliver a paradigm changing capability to our military, providing highly maneuverable protection for our warfighters on the ground so that they can achieve mission success and return home safely," Jonathan Moneymaker, CEO of BlueHalo, said in a statement. "AMP-HEL is the next instantiation of BlueHalo's proven LWS expertise. Our LOCUST LWS has successfully engaged and defeated numerous drone threats across a wide variety of background, clutter, slant range, and threat conditions."
BlueHalo said it received a base $45.7 million prototype Other Transaction Authority agreement for AMP-HEL, with the deal including $30.2 million in options.
The Army's Rapid Capabilities and Critical Technologies Office (RCCTO) is leading the AMP-HEL effort, and received approval last August to pursue working on an ISV-mounted 20KW laser (Defense Daily, Aug. 10 2022).
Lt. Gen. Robert Rasch, the RCCTO director, recently told Defense Daily the aim is to field AMP-HEL prototypes in fiscal year 2024.
"We're about to kick off that effort and deliver those platforms in FY '24," Rasch said in an interview. "AMP-HEL is an opportunity to get directed energy on a platform that is common within our lighter infantry units for them to assess the operational tactics, techniques and procedures of implementing that for a counter-UAS capability."
Rasch said AMP-HEL is focused on countering Group 1 and 2 UAS threats, adding the program may look at Group 3 UAS threats once prototypes are available for testing.
BlueHalo noted its LOCUS laser was previously selected for RCCTO's Palletized High Energy Laser (P-HEL) prototype effort, and subsequently deployed as "the first operational High Energy Laser Counter-small UAS capability overseas."
"AMP-HEL marks another historic step for the deployment of more HEL systems and the modernization of our national defense capabilities," Trip Ferguson, BlueHalo's chief operating officer, said in a statement. "Through our layered defense solutions like LOCUST, BlueHalo continues to meet the toughest challenges with soldier-centered technology and inspired engineering–safeguarding our warfighters and nation.
The company said the LOCUST laser system "combines precision optical and laser hardware with advanced software, Artificial Intelligence/Machine Learning algorithms, and processing to enable and enhance the directed energy 'kill chain,' which includes tracking, identifying, and engaging a wide variety of targets with its hard-kill HEL."
GM Defense [GM] manufactures the Army's new lightweight air-droppable ISV, based on the ZR2 variants of the Chevrolet Colorado midsize truck, with the program recently approved for full-rate production (Defense Daily, April 5).