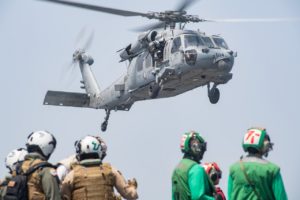 NATIONAL HARBOR, Md. — As the U.S. Navy moves to fulfill a 355-ship goal, the service is "going to a more distributed force" that "puts more emphasis on our helicopter fleet," Navy Deputy Director of Air Warfare Angie Knappenberger told the Navy League's Sea-Air-Space symposium here on May 6.
The Navy foresees helicopters and unmanned platforms, such as the Boeing [BA] MQ-25 tanker, having a blend of capabilities, such as providing targeting and intelligence, surveillance, and reconnaissance for other platforms.
The future ship goal is thus influencing the Navy's operational concept, Knappenberger said. Future carrier air wings will have two squadrons of Lockheed Martin [LMT] F-35Cs, two squadrons of Boeing [BA] F/A-18 E/F Super Hornets, EA-18G Growler jamming aircraft, unmanned platforms for manned-unmanned teaming, Northrop Grumman [NOC] E-2D Advanced Hawkeye early warning aircraft, and Sikorsky MH-60 R/S Seahawk helicopters for logistics, ISR, combat search and rescue, and anti-submarine/anti-surface warfare.
The Navy is likely finish its Next Generation Air Dominance Analysis of Alternatives (AoA) "later this year" to devise a replacement for the Super Hornets and Growlers, Knappenberger said here on May 6. The AoA began in 2016.
Vice Chief of Naval Operations Adm. William Moran said in the middle of last month that the AoA is expected by mid-June and is focused on future carrier air wing capabilities. In that mix, the Navy has been examining unmanned and artificial intelligence capabilities.
While the Air Force's study on replacing the Lockheed Martin F-22 may dovetail with the Navy AoA, the services' next-generation fighters may be separate, tandem efforts, rather than joint ones.
"I don't necessarily foresee an exact repeat of the F-35 [joint] program," Knappenberger said.
The top aviation priority for the service, however, appears to be increasing mission readiness to 80 percent, as Navy and Marine Corps officials say that they had neglected readiness accounts.
The government shutdown last year represented a setback to the Navy's aim to bolster such accounts, but some aircraft, such as the F/A-18 C/Ds and Bell [TXT]-Boeing MV-22 tiltrotor, have had readiness rates over 70 percent, service officials said.
Marine Corps Deputy Commandant for Aviation Lt. Gen. Steven Rudder said that mission readiness for the V-22 has been more than 70 percent since the beginning of last year.
"It's not cheap," he said. "It takes predictable funding to make this work."