The U.S. Air Force on July 7 awarded Northrop Grumman [NOC] a contract that could be worth nearly $3.9 billion for ground subsystems support for the Boeing [BA] Minuteman III ICBMs until 2039.
Northrop Grumman was the incumbent, as the company had won a $963 million contract for such support in January 2015. Given its long experience with the Minuteman III, Boeing expressed chagrin at the 2015 decision. The latest contract looks to mark the second consecutive loss for Boeing on the ground subsystems support program.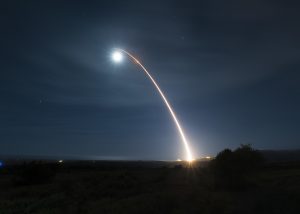 Northrop Grumman is also the prime contractor on the Minuteman III's replacement–the next generation Ground Based Strategic Deterrent.
The new indefinite-delivery/indefinite-quantity contract "provides for sustaining engineering, maintenance engineering, test and assessment, modification of systems and equipment, software maintenance, developmental engineering, production engineering, repair and procurement," per the Pentagon contract announcement. "Work will be performed at Hill AFB, Utah; Vandenberg AFB, Calif.; Malmstrom AFB, Mont.; Minot AFB, N.D.; FE Warren AFB, Wyo.; and Offutt AFB, Neb. The work is expected to be completed July 6, 2039."
Boeing said on Apr. 1 that it had delivered the first upgraded ICBM cryptography units to the Air Force for "advancing the modernization of a key ground subsystem for the nation's ICBM defense force."
"The upgrade will enhance launch code encryption, improve physical site security by eliminating the need to routinely open them up through remote launch code changes, and deliver enormous time savings for airmen currently traveling to perform in-person code changes at the approximately 400 missiles on alert across the Midwest," the company said.
"Currently, these routine code changes require a team to travel to each launch facility and each change can take upwards of seven days to complete," Ted Kerzie, director of Boeing's Strategic Deterrence Systems, said in a statement on Apr. 1. "This upgrade eliminates the need for travel and reduces the amount of staff, resources and time needed down to just a few hours."
Kerzie said that Boeing "designed and helped build the silos and launch facilities that were installed 60 years ago, so we're uniquely positioned to perform this work."
"We're excited to deliver these security enhancements and time savings to the Air Force to help keep our ICBMs mission-ready into the mid-2030s," he said.