AeroVironment [AVAV] on Wednesday detailed its new Crysalis ground control system designed to offer users of its unmanned capabilities a modular, standardized tool to control multiple assets simultaneously.
"The warfighter's faced with lots of different complex systems and assets, such as [drones], ground robots, air robots, etc. Crysalis is the window to all those systems. What it does is it simplifies the interface and the interaction between the warfighter and all these different assets they have," Wahid Nawabi, the company's CEO, said during a virtual briefing. "We are initially making Crysalis available with our unmanned air vehicles, such as our Ravens, Pumas and Wasps, but the strategy and the vision for this platform…is to become ubiquitous and interoperable with all of our assets."
The company also has a portfolio of unmanned ground robotic systems.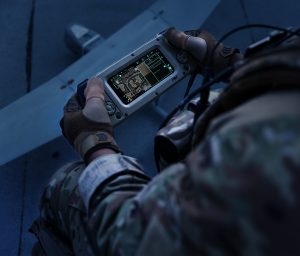 Crysalis will provide command and control of AeroVironment systems as an integrated hardware and software-based modular solution compatible with users' Android, Microsoft Windows or Linux operating systems, and is "designed to make operating robotic systems easier than ever before," the company said. 
"Through the easy-to-use Crysalis Control app, users can plan and execute flight missions as well as navigate and control UAS assets and payloads with one-click access to critical information, modes and telemetry metadata," the company wrote in a statement. "Additional operational participants can gain enhanced situational awareness, share information and collaborate on tactical decisions by accessing telemetry and downlink data through remote video terminals, while also allowing them to capture data directly on their devices."
AeroVironment said Crysalis' intuitive user interface is designed to "reduce cognitive load and training burden while enhancing situational awareness and battlefield collaboration," and each configuration is designed for plug-and-play compatibility with third party command and control and battlefield management applications.
"The Crysalis [ground control station] is available in scalable hardware configurations with all necessary software components pre-configured for quick mission deployment," the company wrote. These range from the Crysalis Ultralight GCS that provides full control of UAS and payloads through virtual control or tactile joysticks on a wearable smartphone configuration to Crysalis Command GCS – a command center configuration featuring a ruggedized laptop."